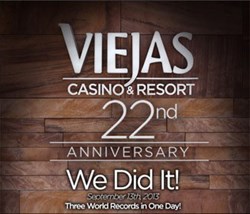 (PRWEB) October 15, 2013
HALO.com Corporate Communication
HALO Branded Solution's Debie Rowe from the San Diego office helped the Viejas Casino and Resort enter the Guinness Book of World Records for the most wine bottles uncorked simultaneously. Debie provided 10,000 cork screws, 1,200 custom wine glasses, as well as t-shirts and hoodies for all of the staff. Despite the massive size of this order Debie made it seamless for Viejas. Debie's knowledge of the industry and experience played a big role in making the casino's 22nd anniversary celebration event a huge success.
"I am grateful to Viejas Casino for making me a part of their record-setting celebration. They gave me the opportunity to demonstrate how I professionally manage large promotional product orders like this one with so many moving pieces. It was very exciting to see it all come together before the event."
To learn more about the event visit the news story.
About HALO Branded Solutions
HALO Branded Solutions, headquartered in Sterling, Illinois, is a leading promotional products distributor in the $18 billion per year promotional products industry, with regional account executives in key cities across the country including in the San Diego-area. The company serves over 40,000 businesses and organizations offering the best, and most competitively priced promotional products, including a large selection of eco-friendly options supported by world-class customer service and a nationwide sales force of over 900 selling professionals.