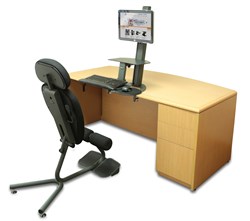 The NMSDC conference presents the ideal platform for EOE/HealthPostures to reveal the benefits of the TaskMate Go directly to corporate purchasing executives.
San Antonio, TX (PRWEB) October 23, 2013
HealthPostures, an ergonomics equipment developer, is pleased to announce its attendance at the National Minority Supplier Development Council (NMSDC) Conference and Business Opportunity Fair. The event is scheduled to be held at San Antonio, Texas' Henry B. Gonzelez Convention Center. Jared Elliott, a HealthPostures staff member, will represent the ergonomics firm at the conference.
Accompanying Jared Elliott will be Chris Juarez, owner of Electronic Office Environments (EOE), an office supply and ergonomics dealer. Chris Juarez shared that, "The NMSDC conference presents the ideal platform for EOE/HealthPostures to reveal the benefits of the TaskMate Go directly to corporate purchasing executives." He went on to say, "With approximately half of our productive hours spent in a sedentary work environment, our work day becomes a major obstacle to our general health and fitness. The benefits from our TaskMate Go turn a negative into a positive by utilizing our work hours to promote health and fitness."
Nearly 7,000 government officials, corporate executives and minority business owners are slated to attend the national conference and business opportunity fair. As the NMSDC's largest event of the year, the conference will offer informative workshops, a leadership development series, the opportunity to gain certified professional credentials and a digital platform.
Advantages of visiting the Health Postures/EOE booth include the chance to ask product developers questions in person and the opportunity to view product demonstrations firsthand. David Watkins, a HealthPostures executive, said, "Attendees are always welcome to review, touch and try out our products at any time."
Featured HealthPostures/EOE products set to be showcased at the event are the TaskMate Executive, the TaskMate Go and the TaskMate EZ. About the TaskMate EZ, HealthPostures executives share that, "The new TaskMate EZ is one of the simplest and most cost effective ways to turn your ordinary desk into a standing workstation."
The TaskMate Executive is a high quality sit to stand tool, while the TaskMate Go is designed to relieve back and neck pain. Sherri Dandurand, a client who started using the TaskMate Go to gain back pain relief had this to say about the product, "It has alleviated much of the stiffness I was having in my back (from my neck all the way down into my hips) from sitting all day. It has been a huge improvement."
EOE and HealthPostures are looking forward to taking advantage of their first NMSDC conference to showcase their new sit-stand station and other new and innovative products. The companies will have representatives at the conference all three days.
About HealthPostures
HealthPostures LLC (https://healthpostures.com), has been designing and manufacturing ergonomic sit stand solutions since 1996. Part of the company's mission is to "strive to provide quality products that will help transform your sedentary life so you have a healthy way to work." Office solutions sit stand products HealthPostures designs and manufactures include dual monitor sit stand work stations, adjustable mouse stands, dual monitor arm accessories, Stance move seat extensions, industrial surface Taskmates and Stance Move chairs.
About Electronic Office Environments
Electronic Office Environments is an office supply store specializing in ergonomic chairs, office furniture, filing systems and wrist supports. The company also sells and distributes office and industrial equipment.
Contact:
Health Postures LLC
14310 Ewing Avenue South, Suite 100
Burnsville, MN 55306
800-277-1841
https://healthpostures.com
Electronic Office Environments
150 Eaton Street
Saint Paul, MN 55107
Phone 651-224-0344
http://www.mnergonomics.com/