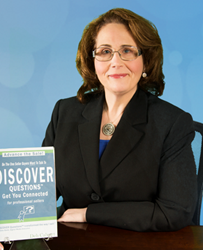 Deb Calvert Joins Top Sales World's Contributing Team
San Jose, CA (PRWEB) October 15, 2013
People First Productivity Solutions, a San Francisco Bay Area sales training and consulting company, shares in the announcement that President Deb Calvert has become a member of Top Sales World's Contributing Team. According to their website, "TSW draws the industry's best-known sales experts who provide unparalleled – and free – information in the form of how-to-guides, articles, and web-based Masterclasses and Roundtables, plus so much more."
As a contributor, Calvert will write magazine articles and content to be featured on Top Sales World. Her first book "DISCOVER Questions™ Get You Connected (for professional sellers)" has been endorsed by many of the experts affiliated with this worldwide sales community including CEO Jonathan Farrington.
Farrington's recognition for Calvert's book has generated the interest of others in the sales arena. He said, "This really is a masterful first book from Deb Calvert. She demonstrates a remarkable understanding of just what it takes to first penetrate the thought process of today's buyer and to then go on to build a bridge to mutual profitability. The very best sales professionals have an unquenchable thirst for knowledge which can only be quenched by asking questions, but they ask the right questions at the right time."
Calvert has also appeared in a feature article in Top Sales World Magazine and in a Hard Talk Conversation with Farrington. In these interviews, Calvert describes her 25 years of sales research and fieldwork which comprise the backbone of her first book and the foundation of her sales expertise.
DISCOVER Questions™ Get You Connected can be ordered on either amazon.com or the People First Productivity Solutions website. Direct contact can be made for bulk orders for your sales team by calling (408) 779-7377 or via email deb(dot)calvert(at)peoplefirstps(dot)com. Contact People First Productivity Solutions for information about training and keynote speaking on the topic of using questions to advance the sale.