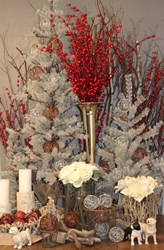 San Mateo, CA (PRWEB) October 16, 2013
Welcome the holiday season with Ah Sam Florist's Annual Holiday Open House showcasing their holiday floral and urban plant gift designs with specialty seasonal décor accessories in their 6,000-square foot indoor-outdoor florist and garden rooms. Marvel at embellished tabletops among Christmas trees dripping with ornaments. Scents of the season from earthy autumn foliage to winter pine mix with the perfume of the holiday flower designs and flower bar's blossoms. Not only will you find perfect complements to enhance the home or business and something for everyone on your holiday list, you may meet with one of the three generations of this family owned San Mateo business that all started as a flower stand on a dusty El Camino Real in 1933.
According to Shawn Leong, "As young boys, my brothers Steve, Scott and I were fortunate to participate in the artistry of our father and aunt's holiday creativity. Today, we continue to be guided by the seasons, creating an artisan holiday with one-of-a-kind pieces for the celebrations with family and friends."
When: Friday, November 1st from 6:30 p.m. – 9:00 p.m.
Saturday, November 2nd from Noon to 3:00 p.m.
Sunday, November 3rd from Noon to 3:00 p.m.
Where: Ah Sam Florist
2645 South El Camino Real
San Mateo
Complimentary Parking
About Ah Sam Florist
Founded in 1933, Ah Sam florist is a third-generation family-owned business creating memorable events with floral flair, personal and corporate gifts of flowers and plant designs for all seasons, as well as inspired items that send a lovely message of beauty, hope and celebration. Ah Sam shares a passion for excellence while blending our tradition with a desire for innovation. Situated in an indoor-outdoor environment, we invite you to explore our floral boutique, garden rooms, and discover unique treasures for the senses from classic to contemporary to naturalistic to whimsical. Ah Sam Florist is not only one of the Bay Area's highly regarded premier florists, Ah Sam sends beautiful statements to inspire and celebrate life. For more information visit http://www.ahsam.com or call 650-341-5611.