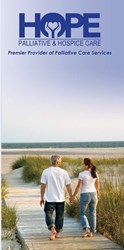 Even when cure is not possible, much can be done to help people heal and redefine hope.
Palatine, IL (PRWEB) October 16, 2013
Hope Palliative & Hospice Care brings a new mission and vision to the hospice and palliative care movement. Hope believes hospice care is about life – quality of life – living each and every day to the fullest even when facing a life-limiting illness or accident. Quality of life means something different to everyone. Through their dedicated team of healthcare professionals, Hope provides services centered around the unique and individualized goals of each of their patients and their families.
"Hospice and Palliative Care is not my job - it's my passion, my life's work. Being able to provide comfort and support during the most important journey we all will one day take is an honor and a privilege," stated Gina J. Munao, RN & Hope Administrator.
"Sharing the same professional passion, values and goals as my partner, enables us to demonstrate our commitment to our patients, their family members and the community. This is so much more than a mission – this work defines who I am as a human being. The opportunities to touch lives and make a difference are endless. I would never consider doing anything else with my life," said Angela Click, CNA & Director of Clinical Services.
By raising the accepted standards of the hospice industry, Hope provides the highest level of care, believing that no course of treatment will be discontinued or denied that may contribute to a patient's quality of life. Hope accepts any patient eligible for hospice care regardless of the complexity of his or her medical condition or needs. Hope believes that "patient choice" defines their philosophy and sets their program apart from many other hospice providers.
Hope's program reaches out to educate all people that hospice is about life; not death. "Hospice is a philosophy of care," explains Munao. Hope brings that philosophy to wherever a patient calls home. Along with Hope's team and exceptional professional services; any medications, medical supplies and/or equipment that may improve a person's quality of life are included in the hospice benefit. Currently only 1 in 3 individuals eligible for hospice services are receiving them, despite that all services are fully covered by Medicare, Medicaid, and most commercial insurance. Hope encourages everyone to educate themselves regarding hospice care and the benefits that all are entitled to.
With the goal of educating the community and other healthcare professionals about the benefits of hospice care while dispelling the myths; Hope offers hospice consultations free of charge. Hope dispels many misconceptions about hospice care on their website at http://www.gohopehospice.com/hospicemyths.html.
Individuals interested in learning more about Hope Palliative & Hospice Care are encouraged to visit http://www.gohopehospice.com and/or call 847-803-0400 24 hours a day, 7 days a week for a free consultation.
Hope Palliative & Hospice Care is the Premier Provider of Palliative Care Services. Hope Palliative & Hospice Care is proud to introduce their exceptional services to the Greater Chicagoland community.