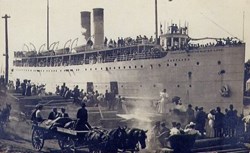 African saying:"When an elder dies, it is as if an entire library has burned to the ground."
(PRWEB) October 22, 2013
AncestorEbooks.com, an online company dedicated to the creative sharing of family history materials through personalized EBooks, announces the 14th annual Czechoslovak Genealogical Society International Conference Oct 23-26.
The Czechoslovak Genealogical Society International Genealogical/Cultural Conference of 2013 (CGSIG) will be held in Westin, IL from October 23 through October 26. Many activities and sessions have been planned to include not only genealogy and research information, but also important sessions relating solely to the research and preservation of Czechoslovak ancestors and the cultural heritage. [bit.ly/19HbwRU]
There are two sessions that are geared directly to the Czechoslovakian research, T2: 'Language Handbook for Traveling and Genealogy Research in Slovakia.' scheduled for Thursday Morning, and Transportation and T6: 'Language Handbook for Traveling and Genealogy Research in Slovakia -- Searching for Records, Strolling through Cemeteries, Meeting with Relatives'. These two Sessions are taught by Michal Razus. [bit.ly/19HbwRU]
Many sessions focus on the history of Chicago, concentrating attention on Slovak immigration, such as, F4: 'S.S. Eastland -- A Conversation' on Friday morning taught by Alberta Adamson and Jane Rio. In this session, participants will here a conversation between "two former Western Electric employees" reminisce about when the Disaster on July 24, 1915 when the unthinkable happened & the S.S. Eastland rolled over at the edge of the wharf, with over 2,500 passengers and crew aboard leaving, 844 people died, including 22 entire families. [eastlanddisaster.org/summary.htm]
There will be several Breakout sessions that will teach participants how to use technology, such as FamilySearch.org, to research family history, and classes teaching the best way to write a detailed family history for posterity, without the use of boring charts. These participants will be given hints on ways to write a "compelling narrative your relatives and future generations will want to read."
"We here at AncestorEbooks.com are excited to see family stories being incorporated into the telling of family history. The family tree and pedigree charts are only the 'skeleton' of what people want to know about their ancestors. It is the stories behind their lives, how they lived, and important life events that bring family history to life."
"Writing a compelling narrative will give future generations the desire to read those stories and relate them to themselves," says Gayla Mendenhall of AncestorEbooks. "More and more, conferences, such as the Czechoslovak Genealogical Society International's Conference, are including information on creative ways to use and share the stories that were discovered."
AncestorEbooks.com is the fun, easy, and creative way to use genealogical information and tell an ancestor's stories, using mp3s, videos, documents and photos. AncestorEbooks was created to use today's digital age and new technologies in the retelling and sharing of family history & stories. The possibilities are limitless.