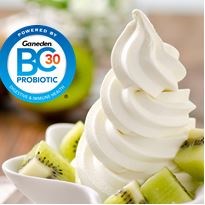 We are an ingredient company that considers 'ingredient solutions' that go far and above what we manufacture ourselves.
Concord, NC (PRWEB) October 17, 2013
PreGel AMERICA announced last week a new partnership with Ganeden Biotech to incorporate the probiotic GanedenBC30 into its line of superior dessert ingredients starting with its new frozen yogurt mix Happy Yo Pro™ Super Sprint (Yogurt with Probiotics). Carrying GanedenBC30 probiotic demonstrates PreGel's ability to adopt leading edge technologies and continue to support its customers by offering all the necessary solutions for a successful dessert concept.
Unlike other probiotic strains, GanedenBC30 (Bacillus coagulans GBI‐30, 6086) can survive the toughest manufacturing processes, supply chain conditions, as well as stomach acids, making the probiotic both highly effective and efficient. Adding the probiotic to its offerings strengthens the ability for PreGel to develop, manufacture and provide products with increased digestive and immune health benefits to the dessert industry.
"We are an ingredient company that considers 'ingredient solutions' that go far and above what we manufacture ourselves," said Marco Casol, CEO and president, PreGel AMERICA. "Adding this superior probiotic to our lines is yet another way for us to provide complete solutions to our clientele."
Happy Yo Pro™ is an instant powdered product that allows for the quick preparation of gelato, ice cream or frozen yogurt and delivers a tart yogurt flavor. The kosher and gluten-free product is distributed in a twelve bag cases. The product is prepared by combining Step 1 and Step 2 bags together with one gallon of water to create a standard batch of gelato or frozen yogurt.
The composition of GanedenBC30 differentiates itself from other probiotic ingredients, such as Lactobacillus and Bifidobacterium, due to its naturally occurring layer of organic material that protects the genetic core of the bacteria. Other probiotic strains are unable to form this protective layer, making them vulnerable to failure in a variety of production processes. The uniqueness of GanedenBC30 allows it to be incorporated into a variety of foods ranging from frozen yogurt and baked goods to confections.
PreGel believes its existing and future customers will greatly benefit from this addition to their lines, as the probiotic is both shelf-stable and more cost-effective than using fresh yogurt and/or other probiotics on the market. PreGel's newly formulated Happy Yo Pro™ is available for direct sale. This is an exciting endeavor for the company, which shares that this is another step to continue to establish itself as a global leader in the specialty desserts arena and assist in the success of their customers.
##
About PreGel AMERICA:
PreGel AMERICA is the U.S. subsidiary of PreGel, a global ingredient company headquartered in Reggio Emilia, Italy. PreGel develops, manufactures and distributes authentic ingredients, toppings and fillings of the highest quality, including flavors, powders and pastes used in gelato, frozen yogurt, pastry and other specialty desserts. Based in North Carolina since 2002, PreGel's customer base includes restaurants, gelato cafes, ice cream shops, coffee shops, frozen yogurt shops, bakeries, patisseries, pizzerias, hotels, casinos, resorts, grocery stores, franchises and chains, food manufacturers and universities, as well as select distributors in the United States. PreGel believes in blending Your Passion with Our Ingredients. For more information, visit http://www.pregelamerica.com.
About Ganeden Biotech:
Founded in 1997, Ganeden Biotech is based in Cleveland, Ohio, and is at the forefront of probiotic research and innovative product development with GanedenBC30®, its patented, probiotic ingredient. GanedenBC30 can be found in more than 75 foods, including popular brands like Red Mango frozen yogurt and ice teas, Naked Pizza pizza dough, Heartland Sweeteners Nevella with Probiotics, and R.C. Bigelow's Herb Plus Tea. For more information on the probiotic ingredient, GanedenBC30 and licensing opportunities for food and beverage applications, visit http://www.GanedenBiotech.com.