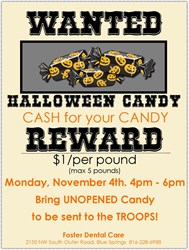 Kids can still have all of the fun of trick-or-treating and now their piggy banks will benefit as well.
Blue Springs, MO (PRWEB) October 15, 2013
A Blue Springs dental practice is redefining the phrase "put your money where your mouth is." This Halloween, trick-or-treaters can bring their excess candy to Foster Dental Care and receive $1 per pound (up to $5). The team at Foster Dental Care is leading this anti-decay movement by giving away dollars in exchange for cavity-provoking candy.
"Kids can still have all of the fun of trick-or-treating and now their piggy banks will benefit as well," says Dr. Alan Foster, of Foster Dental Care. "Last year a lot of the children that came in were motivated to donate their extra sweets to support our hard working and much deserving Troops overseas."
Global sugar consumption for children increases by about 2% annually and currently sits at 50 million tons per year, which means parents need to be sure their kids teeth are being cared for more than ever. Candy, as well as hurting children's teeth, can lead to hyperactivity and weight gain. In some cases, certain types of candy can also lead to broken teeth and damaged braces.
Candy will be collected at Foster Dental Care, located in Blue Springs at 2150 NW South Outer Road on Monday, November 4th from 4:00 – 6:00 p.m. The candy must be unopened and all children must be accompanied by an adult. The first 100 kids who donate their candy will receive goodie bags with a brightly colored toothbrush. Payment will be made during the event time. However, donations will be accepted until November 8th. All candy donations will then be shipped to troops overseas via Operation Gratitude.
To date, Operation Gratitude has sent over 675,000 care packages to individually named troops all over the world. For more information, visit Operation Gratitude at http://www.operationgratitude.com or http://www.halloweencandybuyback.com. For more information about Foster Dental Care, please visit http://www.fosterdentalcare.com or call 816-228-6988.
About Foster Dental Care:
Foster Dental Care is dedicated to comfort and prompt attention while creating healthy, beautiful smiles and building lasting relationships with their patients. It is their goal to make patients feel satisfied with their smile. For over 30 years Dr. Alan Foster and the Team at Foster Dental Care have been working with patients to provide the best cosmetic and general dentistry. To learn more, please visit http://www.FosterDentalCare.com.