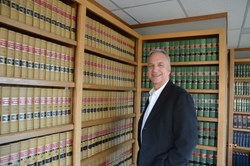 Excellent personal attention by being easy to reach...responsive to questions
Edmonds, WA (PRWEB) October 16, 2013
The Ryder Law Office has recently launched a new website explaining all the details and services provided by David Ryder, an experienced attorney in the Edmonds and Snohomish County area for over 30 years. Although David has been in Edmonds for 12 years, the website was recently launched at the beginning of October, 2013. David has been practicing in the downtown Seattle area for over 20 years and moved the practice to Edmonds in 2001.
The Ryder Law Office specializes in a variety of legal areas such as misdemeanors, personal injury claims, civil money disputes and DUIs. David states that direct communication and personalized attention has continued to maintain a reputable service for the Edmonds, North Seattle, Everett and Snohomish County areas. The Ryder Law Office offers a variety of the arrangements such as contingency fees or a percentage of the recovery on a lawsuit, hourly fees and flat rate fees to accommodate all customers and clients.
The Ryder Law Office provides a plethora of legal expertise including marijuana charges, negligent and reckless driving charges, assault, DUI, insurance claims, property damage, civil money disputes such as business versus business and shareholder versus owners. Mr. Ryder is keen on not wasting customer's time or money and determines first whether it is cost-effective for the client to pursue sufficient legal action.
With the Ryder Law Office's new website, customers and clients can easily access consultation requests, online contact forms, and receive information on services provided.