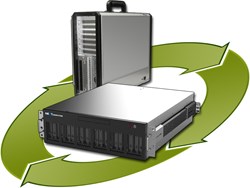 Nashua, NH (PRWEB) October 15, 2013
NextComputing, developer of high-speed network test appliances, has announced the Continuum TGEN packet replay and traffic generator system. This new addition to the company's Continuum family of network test tools provides full line-rate packet generation and replay capabilities up to 40Gbps. Setting this solution apart from other traffic generators is the ability to simultaneously capture high-speed traffic at up to 20Gbps while sending packets, creating a closed-loop test bed for diagnosing a variety of network problems. In addition, Continuum TGEN includes a RESTful API, allowing developers to integrate their test applications with this open, flexible platform.
Continuum TGEN solves several problems faced by network engineers, equipment vendors, and service providers when either troubleshooting installed services or when deploying new infrastructure. In most cases traffic generators are used to simulate a wide array of network data flows to get to the root of a problem or to understand the tolerance of specific equipment before using it for a particular job. However, traditional solutions from established vendors can be prohibitively expensive, not flexible enough, or require multiple pieces of equipment to solve a problem, adding to the overall cost and complexity of a project.
For example, a network engineer looking to understand if a switch can handle their latest VoIP application rollout can simulate this traffic a number of ways, but may also want to record other traffic coming through the switch to understand if the device can tolerate peaks or characterize how other applications might be affected. Many Ethernet test products will monitor traffic coming back to the device and compare results, but don't record traffic for deeper analysis. This requires a separate packet recorder. With Continuum TGEN, a single appliance can both generate and record packets, allowing for further post-test analysis.
With the Continuum TGEN, a mobile service provider technician may make a service call to troubleshoot a bandwidth problem where installed monitoring tools are not able to get deep visibility of the issue. The technician can record the traffic at that particular end point in the field, then can replay the same traffic back out to a similar set of equipment in a safe environment back in the lab.
Other applications for Continuum TGEN include:

Infrastructure build-out and test for service providers and cloud hosts
Manufacturing test for network equipment vendors
Application performance validation for enterprise data centers
Latency measurement and throughput validation for financial services companies
Key features of Continuum TGEN include:
Generate line-rate traffic at up to 10Gbps per port across multiple ports
Simultaneous capture up to 20Gbps (2x10G) while sending packets
Portable and rack-mount versions for both field- and lab-based test environments with the ability to share data between systems with removable hard drives
Standard PCAP files can be easily shared with other applications like Wireshark, Tcpdump, or Riverbed Pilot.
Customize PCAP files for replay using open-source tools like Ostinato
Packet stream customization with BPF-type filtering, rate, timeline, and frame size adjustment options for synthetic or replayed packets
Browser-based user interface can be run locally on a laptop or remotely over a secure link
RESTful API allowing integrators, enterprises, and test tool developers to create sophisticated test suites for specific uses with Continuum TGEN as the core appliance
Continuum TGEN is available as a turnkey appliance with the option to scale up to 40G with up to four (4) 10G fiber or copper network interfaces, as well as single- or dual-10G capture interfaces. In addition, customers using NextComputing's Continuum PCAP packet capture appliances have the ability to upgrade these systems to TGEN capability simply by adding ports.
For more information and pricing, please email sales [at] nextcomputing [dot] com or call +1-603-886-3874.
About NextComputing
NextComputing is a US-based manufacturer of high-performance computing platforms, with solutions that feature enterprise-class workstation and server architecture in the smallest and lightest systems available. Visit http://www.nextcomputing.com for more information.