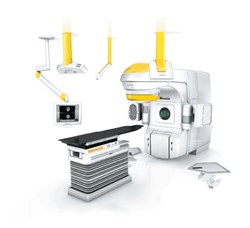 This code increases the ease of collaboration, giving patients greater access to the team of professionals who are best equipped to prepare a treatment plan for their diagnosis. - San Diego Radiosurgery medical director Dr. Brian Volpp
Escondido, Calif. (PRWEB) October 15, 2013
Patients seeking lung cancer treatment at San Diego Radiosurgery will soon experience a new approach to planning and undergoing treatment. The center is implementing a multidisciplinary approach to patient care by allowing San Diego Radiosurgery physicians to collaborate with doctors across specialties, including radiation oncologists, surgeons and medical physicists, to determine the best treatment for each patient.
Using this approach, physicians remain involved in their patients' care from consultation to follow-up appointments after treatment. This method gives patients access to physicians with a broad range of expertise and encourages communication between doctors and patients.
The American Medical Association (AMA) recently took steps that will benefit the center's multidisciplinary approach. The AMA released a Current Procedural Terminology (CPT) code for thoracic surgeons to participate in planning the treatment for patients undergoing lung cancer treatment at San Diego Radiosurgery.
"The new CPT code is a welcome addition to our multidisciplinary approach to patient care," said San Diego Radiosurgery medical director Dr. Brian Volpp. "Lung cancer is the most frequently treated disease at our center and this code increases the ease of collaboration, giving patients greater access to the team of professionals who are best equipped to prepare a treatment plan for their diagnosis."
San Diego Radiosurgery treats patients with stereotactic body radiation therapy using Novalis Tx® technology. During treatment, high doses of radiation are delivered to benign or malignant tumors with submillimeter accuracy due to the technology's ability to compensate for patient movement, like breathing. This method decreases the duration of treatment and minimizes radiation exposure to healthy tissue.
Patients are treated in five or fewer sessions and typically return to their normal routines immediately following treatment. Dr. Volpp said many patients are drawn to the procedure's minimal disruption on their day-to-day lives.
San Diego Radiosurgery is a service of Palomar Health Downtown Campus and is located at 555 East Valley Parkway in Escondido, Calif. For more information, call (760) 739-3835.