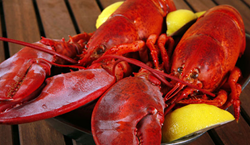 We have ordered lobster from GetMaineLobster.com several times and they are the freshest we have ever tasted!
(PRWEB) October 15, 2013
GetMaineLobster.com, a Maine seafood delivery service, is offering a special this week on live Maine lobsters delivered next day fresh from the cold waters of the North Atlantic. Make a statement and create lasting memories at your next dinner gathering with live Maine lobster while also taking advantage of easy and quick preparation.
For only $109.00, a discount of more than $100.00, GetMaineLobster.com will ship six one- to 1.25-pound live Maine lobsters overnight. In order to accommodate larger gatherings or heartier appetites, GetMaineLobster.com is also offering 10 live Maine lobsters for $159.00, a discount of $138.95. These discounts are good only until Tuesday, October 29 for arrivals.
"We lived on the Jersey Shore for 10 years and could get lobster very cheap," says Sissy, a GetMaineLobster.com customer from South Carolina. "Then, we moved to Charleston and we love living here, but we missed our lobster. We have ordered lobster from GetMaineLobster.com several times and they are the freshest we have ever tasted!"
The team at GetMaineLobster.com recommends handling lobster humanely. Before cooking, place the live lobsters in a freezer for as long as two hours. Then, remove the lobsters from the freezer, making sure they are no longer moving. Push the tip of a skewer or sharp knife into the center of the cross on its head. Finally, follow Get Maine Lobster's tips on how to prepare live lobsters and revel in the unforgettable Maine lobster experience.
To learn more about GetMaineLobster.com, browse its wide range of seafood offerings, and to access lobster recipes or view current seafood delivery specials, visit GetMaineLobster.com or call (866) 562-4817. For even more lobster news and recipes go to JustAddLobster.com.
About GetMaineLobster.com
GetMaineLobster.com, a division of Black Point Seafood and Black Point Gourmet, hand-selects the finest Maine lobster, seafood and beef products for convenient distribution throughout the United States. Their passion is to make fresh, quality seafood readily available to customers across the country, which is why they buy from only the most trusted, well-established suppliers to ensure that they receive the finest products available.
GetMaineLobster.com was selected out of the more than four million small American businesses served by Chase bank to represent its new Platinum Business Checking product for its 2013 national advertising campaign.