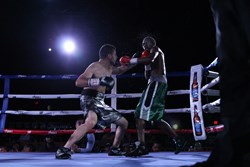 Winning the Texas Title meant a lot, but defending it will be much harder.
Arlington, Texas (PRWEB) October 15, 2013
"Life is hard. No one will hand you anything. You have to work for it, but you can't quit," explained Hector Vazquez of Irving, TX, the reigning super welterweight title holder, to a group of athletes he was encouraging at his Alma Mater, MacArthur High School in Irving on October 10, 2013. Hector made this comment shortly before finding out he was up for another challenge in his own life with perhaps the fight of his life. As it turns out, Vazquez's title challenger for the upcoming Bud Light Pro Fight 5 main event on October 19th. Salvador Amir Roa got injured while training for the title fight. The boxing commission would not allow Roa to fight due to the severity of his injury. Unfortunately for Hector, his remarks to the young athletes were foreshadowing of the more difficult opponent who has risen to take the challenge for the title on short notice.
Vazquez will now be facing the highly skilled Cory Yett from Austin, Texas. Since Yett and Vazquez already had a competitive fight in 2011, which Vazquez won by unanimous decision, Yett is only looking for one thing: retribution. Since determination often accompanies revenge, Vazquez knows he must be ready and keep his guard up on the 19th.
Fortunately, when Vazquez advises teenagers about overcoming adversity, he speaks from experience since he is no stranger to succeeding despite trials. For example, just a few months ago, Vazquez was able to win the Texas Super Welterweight Title after a long recuperation from a hand injury that required surgery. As a matter of fact, overcoming challenges seems to be the story of Vazquez's professional career. He started off his professional career as the object of heavy recruitment from some of boxing's best managers as a result of a solid amateur career which included 165 contests, multiple national titles and wins over top prospects such as current Welterweight Champion Adrien Broner. These successes led to Vazquez's selection as the 2008 Olympic Alternate for Team Mexico. He started off winning a 1st round KO in his debut on national television. After a loss in his second contest, however, Vazquez found that the phone had stopped ringing and the opportunities were few.
Later that year, however, after looking strong in sparring sessions with names like Amir Kahn, he was on a role again with 3 wins in 5 months in 2011/2012 until a career threatening hand injury put him on the sidelines for a year and a half. In August after his long recuperation, Vazquez returned to the ring and won the Texas Title.
After overcoming all these challenges, it is no wonder that Vazquez can motivate high school students with these reassuring words, "You are going to lose but it's about what you are going to do when you get back up". Vazquez has lived out those words.
"Winning the Texas Title meant a lot, but defending it will be much harder. Everybody is telling me that Cory Yett is going to be a much tougher opponent than Roa," said Vazquez. "I have always looked up to Oscar De La Hoya and Marco Antonio Barrera. To become great they had to turn back the challenges. If I want to be great, I have to do the same. I am preparing for this fight to be the toughest of my career, but know that on October 19th I will leave the ring still the champion," added Vazquez.
While the main event will be exciting, this battle for the Title is preceded by a solid undercard. In the 6 round co-main event, rising Fort Worth star Tony Lopez looks to cap off his rookie year with a big statement squaring off with the tough Jamal Parram of St. Louis, Missouri in a JR. Featherweight contest. Lopez has exploded onto the Dallas/Fort Worth boxing scene in the last year with victories on national television, on the undercard of the Mikey Garcia-Juan Manuel Lopez in June, and with skill and explosive punching power in Arlington in June and August.
Another fight to get excited about at Bud Light Pro Fight 5 is the heavyweight bout between Julian Walters from Dallas and Dwight Gibson from Lufkin, TX. The seven bout card will also feature the popular and inspirational Middleweight Mike Tufariello of Carrolton, TX, who started his professional career with 2KO's at 38 years-old, against the Daniel Henry of Austin, TX. The 7 bouts will also feature Ann Wolfe trained Lightweight Travell Maizon (3 KO's) of Austin, TX, and the pro debut of four highly publicized amateurs including Desmond Fields, Jamal Lawson, Jonathan Ramirez and Cameron Johnson.
Bud Light Pro Fight 5 bouts will begin at 5:00 PM. Doors open at 4:30 PM. The event is at Cowboys Dancehall in Arlington, Texas and is open to attendees of all ages. Standing 8 Promotions events are known for great entertainment as well as great fights, offering something for everyone looking for a thrilling night. Attendees will enjoy celebrity visits, live music performances, a comedian from Arlington's IMPROV Comedy Club, free massages, contests & giveaways and after party at Cowboys with a live band and dancing. Tickets start at $20 and can be purchased by calling 817.265.1535 or online at http://www.standing8promotions.com.
Since its inception last year, the promotional company has gained prominence in the boxing world by staging consistent cards, competitive fights, exciting entertainment and featuring some of the very best young boxing talent. For more information about this event or Standing 8 Promotions, go to http://www.standing8promotions.com.