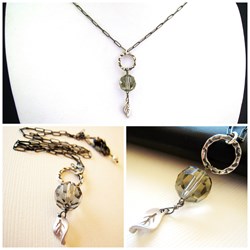 I designed this Vintage Swarovski Necklace with the belief it would be a great fit for Elena... there was just something about the faceting on the focal crystal that made it feel 'right.'
Arroyo Grande, CA (PRWEB) October 15, 2013
Cindy Arnet, designer/owner, Sienna Grace Jewelry (http://www.siennagrace.com) of Arroyo Grande, California, has had her "Vintage Swarovski Necklace" worn by character Elena Gilbert (Nina Dobrev) on Episode 5:2 of CW TV's "The Vampire Diaries." The episode, "True Lies," aired October 10, 2013. In addition, the designer's "Garnet & Smoky Quartz Pendant" will be worn by Elena later in the season.
Arnet says she received notification in late July that her "Vintage Swarovski Necklace" had been selected by wardrobe stylist Leigh Leverett for use on an upcoming episode.
According to Arnet, "I designed the necklace with the belief it would be a great fit for Elena or one of the other female characters on the show. There was just something about the faceting on the focal crystal that made it feel 'right.' Learning that Ms. Leverett actually chose the piece to use, though, was a wonderful surprise."
To Arnet's surprise, she received a second email in early August, telling her a piece she had submitted for consideration in 2012 has also been selected for Elena to wear, this time on Episode 5:5, "Monster's Ball," which airs October 31.
"You could have knocked me over with a feather," said Arnet. "This was a piece I designed specifically with actress Nina Dobrev in mind, knowing the smoky quartz would complement her beautiful hair color. I couldn't be happier that she'll have the chance to wear it."
Watch a Sienna Grace Jewelry video.
Leigh Leverett received Arnet's "Vintage Swarovski Necklace" and "Garnet & Smoky Quartz Pendant" as part of a Stylist Gift Bag initiative coordinated by art promotions and celebrity gifting company The Artisan Group®, of which Arnet is a member.
Arnet is a huge fan of "The Vampire Diaries," and enjoys watching with her teenagers. She is also an avid participant in The Artisan Group® gifting initiatives. Most recently, she presented her jewelry to members of the press at GBK's 2013 Oscars Gifting Suite and has also gifted Mariska Hargitay ("Law and Order: SVU") and Brandi Glanville ("Real Housewives of Beverly Hills").
"Becoming a member of The Artisan Group® has led to so many opportunities for Sienna Grace Jewelry," noted Arnet. "The publicity has been amazing and has really helped me grow my brand."
Arnet's wire-wrapped jewelry designs are inspired by nature, art and her own imagination. "Sienna Grace Jewelry is for women who would like to add a bit of color and/or whimsy to their outfits," noted Arnet. "These are designs that can dress up jeans and a tee or complement a Little Black Dress."
To learn more about Sienna Grace Jewelry, contact Cindy Arnet by phone or email. Become a fan on Facebook (SiennaGraceJewelry) and follow the company on Twitter (@siennagracegems). Shop Sienna Grace Jewelry at siennagrace.com. For more information about The Artisan Group, visit theartisangroup.org.
ABOUT SIENNA GRACE JEWELRY
Sienna Grace Jewelry (http://www.siennagrace.com) specializes in gemstone jewelry inspired by nature, art, and imagination, including custom designs.