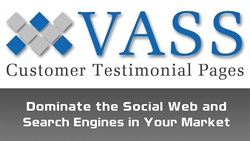 ...search engine marketing and advertizing using your existing customers...
Brentwood, TN (PRWEB) October 15, 2013
VASS Customer Testimonial Pages gives their clients a better online presence. VASS creates the pages for their clients using proprietary software, along with providing a suite of social media and online publicity services. The result, is a series of hundreds, possibly thousands of web pages making full use of social media services like Facebook to ensure the dealers' pages appear in the top of search results in all major search engines when new and used vehicles are searched for in their local and surrounding markets. VASS Customer Testimonial Pages makes this happen by publishing press releases, online press, articles, and social media posts in their other online publications to give their clients exceptional exposure. In addition, the salespeople, Internet Manager's and the dealer principals themselves may also share their pages in the major social streams, further expanding the reach and effectiveness of their many VASS Customer Testimonial Pages. This then boosts referrals, builds trust and eventually sales, by enabling each dealership's clientele the ability to hear the voices of people who have already done business with the dealer being promoted.
Using all third-party projected testimonials, all Canadian Dodge, Chrysler, Jeep and Ram stores can therefore now be easily viewed and accessed through social media and easily found on all major search engines. This then grants Canadian Chrysler dealers an advantage not seen by their local competitors, since VASS Pages are exclusive to only one of each franchise in any given dealer market. Meaning, only one Chrysler store, one Ford store and one Toyota store in each market may license VASS pages. As a further step into making the Canadian Dodge-Chrysler-Jeep-Ram experience better, VASS is fully prepared to handle both English and French speaking clients by employing the expertise of bilingual representatives.
About VASS Customer Pages:
VASS Customer Testimonial Pages provides a software and publicity service to both automotive and motorcycle dealerships in the United States and Canada. Approved by Harley-Davidson Corporate for use in every franchisee's store, the VASS service builds trust in consumers, increases traffic to the dealers' sites and boosts sales by use of premium organic Google placement together with the use of all major social network platforms and social streams. You can contact VASS toll-free 888-542-0844, or by email at vassdp(at)gmail(dot)com. You can also gather additional information by visiting the VASS Pages website at http://www.VassPages.com.