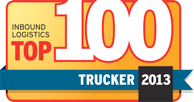 Cherry Hill, N.J. (PRWEB) October 15, 2013
NFI, a leading supply chain company headquartered in Cherry Hill, New Jersey, is pleased to be recognized as a Top 100 Trucker for 2013 by Inbound Logistics.
Operating across North America, NFI has been continuously growing its Dedicated Fleets offering to surpass customer demands. Felecia Stratton, Editor, Inbound Logistics states that, "NFI continues to help shippers a competitive edge through innovative solutions, cost saving strategies, and true partnerships. That's why Inbound Logistics editors have recognized NFI as a 2013 Top Trucker."
Specializing in trucking since its origin in 1932, NFI initially operated dump trucks, and quickly expanded trucking services and expertise over the years to become the diverse third party logistics company it is today. With more than 6,700 employees, 2,000 tractors and vans, 7,400 dry and refrigerated trailers, 170 refrigerated intermodal containers, and 2,770 total drivers and rising, NFI has the personnel, experience, flexibility, and assets to provide world-class transportation services. NFI services a broad scope of industries: from apparel and footwear, food, grocery, and beverage companies, to industrial and automotive, and more.
"It is an honor to be selected as a Top Trucker by Inbound Logistics," states Joe Roeder, President of NFI. "With many years of expertise in transportation, in addition to other supply chain offerings, NFI is well-suited to exceed customers' expectations. We are continually striving for ways to improve our dedicated, worry-free supply chain solutions and hope to pass on potential opportunities to our existing partnerships and to attract new businesses as well," he added.
"Inbound Logistics' Top 100 Truckers list serves as a qualitative assessment of service providers we feel are best equipped to meet and surpass readers' evolving motor freight transportation needs. Distilling the Top 100 is never an easy task. Each year, Inbound Logistics editors select the best transportation providers by carefully evaluating submitted information, conducting personal interviews and online research, and comparing that data to our readers' burgeoning motor freight and logistics challenges. IL editors selected this year's class of Top 100 Motor Carriers from a pool of more than 200 companies. The service providers we selected are companies that, in the opinion of IL editors, offer the diverse operational capabilities and experience to meet readers' unique supply chain and logistics needs," noted Stratton.
In addition to transportation, NFI also offers additional services such as warehousing, brokerage, transportation management, intermodal, real estate, and solar. These all-encompassing supply chain solutions allow NFI to tailor to customers' specific business necessities.
NFI has also been recognized this year by Inbound Logistics as a Top 100 3PL Provider and a 75 Green Supply Chain Partner.
# # #
About NFI -- NFI is a fully integrated supply chain solutions provider headquartered in Cherry Hill, NJ. Privately held by the Brown family since its inception in 1932, NFI generates more than $1 billion in annual revenue and employs nearly 6,700 associates. NFI owns facilities globally and operates in excess of 20 million square feet of warehouse and distribution space. Its company-owned fleet consists of over 2,000 tractors and 7,000 trailers, operated by more than 2,500 company drivers and 250 Owner-Operators. Its business lines include logistics, distribution, warehousing, intermodal, real estate and solar services. For more information about NFI visit http://www.nfiindustries.com, or call 1-877-NFI-3777.
About Inbound Logistics – Inbound Logistics is the leading trade magazine targeted toward business logistics and supply chain managers. The magazine's editorial mission is to help companies of all sizes better manage corporate resources by speeding and reducing inventory and supporting infrastructure, and better matching demand signals to supply lines. More information is available at http://www.inboundlogistics.com.