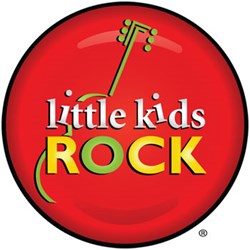 San Francisco, CA (PRWEB) October 16, 2013
In an effort to expand access to free music instruction and instruments to children in public schools around the country, national nonprofit Little Kids Rock will host its annual "Rockin' The Bay Benefit" on Saturday, November 9, at Facebook's Menlo Park headquarters. The event will not only raise money to help deliver the gift of music to thousands of students in Bay Area public schools, but also pay tribute to the late executive chef of Facebook, Josef Desimone, a volunteer and supporter of Little Kids Rock.
To honor his legacy, the charity will be dedicating this year's benefit to Desimone who was in the midst of helping Little Kids Rock plan their second annual "Rockin' The Bay Benefit" at the time of his tragic passing. One of Little Kids Rock's generous donors has offered a $150,000 matching grant to urge others to donate in order to have their donations matched. In addition, the charity will also announce Facebook as its "Corporate Honoree."
Each year, the benefit features a fun night of music and live auctions, as well as a number of musical performances from special guests. Last year's guests included Sammy Hagar, Black Eyed Peas' Taboo, and Rock and Roll Hall of Fame drummer Matt Sorum. The event raised enough money to put more than 5,000 rock instruments and educational programming into local public schools, providing free music lessons to tens of thousands of children in the Bay Area.
Founded in the Bay Area in 2002, Little Kids Rock has since enriched the lives of nearly 250,000 children from underprivileged communities with free instrumental music lessons. Supporters who wish to donate to this year's fundraiser, please visit http://www.crowdrise.com/jamminforjoey.
To reserve your seat at this year's benefit, please visit https://www.littlekidsrock.org/rockinthebay2013/reservations/.
About Little Kids Rock
Little Kids Rock is a 501 (c) (3) nonprofit organization that transforms children's lives by restoring and revitalizing music education in public schools. Little Kids Rock was founded in San Francisco in 2002 by David Wish, an elementary school teacher who had grown frustrated with the lack of music education funding at his school. Today, Little Kids Rock is the leading nonprofit provider of free lessons and instruments to underprivileged children in US public schools, and has served more than 250,000 students at over 1,700 schools in 25 cities nationwide. Little Kids Rock Honorary Board Members include Steven Van Zandt, Bonnie Raitt, Slash, Paul Simon, B.B. King, Ziggy Marley and other famous friends in the music industry. More info at: http://www.littlekidsrock.org.