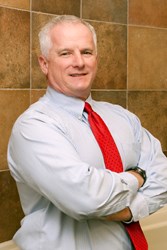 Texas City, TX (PRWEB) October 14, 2013
Dr. Stephen C. Hale, DDS, is now certified to administer the Laser Assisted New Attachment Procedure (LANAP). Patients who require gum disease treatment may be eligible to receive this advanced method of laser gum surgery. Many patients may have gum or periodontal disease without realizing it. The Centers for Disease Control and Prevention (CDC) have stated that about half of all American adults over the age of 30 have some form of gum disease. Because the beginning symptoms of the illness (redness, swelling and sensitivity of the gums) are often perceived by the sufferer to be normal or harmless, gum disease is often left untreated and allowed to progress into advanced periodontal disease.
When left untreated, the bacteria in the mouth that causes periodontitis can eat away at the tissues surrounding the tooth, causing the tooth to become unstable and ultimately require extraction. Traditional methods of gum disease treatment require surgical cuts to open the gums. Then the diseased tissue is scraped away and the gums are sutured back into place.
LANAP uses a highly intelligent laser to remove tissue affected by gum disease. The laser allows healthy tissue in the area to remain so that it can reattach to the roots of the tooth, thus stabilizing the tooth. This form of laser gum surgery also stimulates regeneration of the cells in the bone, further stabilizing the tooth. Because LANAP is less invasive than older treatment methods, many patients experience quick healing times and require only a couple of short treatment sessions. LANAP may be a good option for patients who are fearful of the discomfort of traditional treatments. Treatment is important for preventing serious health conditions that are linked to gum disease including diabetes, heart disease and pancreatic cancer.
Dr. Hale believes in helping patients keep their natural teeth. While the beginning stages of gum disease can often be remedied by adequate brushing and flossing and routine dental care, advanced cases may require laser gum surgery or other treatments. Individuals who are suffering from gum disease and are interested in learning more about LANAP should visit http://www.stephenhaledds.com for more information.
About The Doctor
Stephen C. Hale is a general dentist offering personalized dental care for patients in Texas City, TX for over 26 years. Dr. Hale received B.S. degree in biology from Stephen F. Austin College and his D.D.S. degree from the University of Texas Dental Branch at Houston. He continues his education today and is a member of professional dental associations. Dr. Hale is part of one percent of dental professionals providing the only FDA cleared laser procedure for gum disease and periodontal treatment. To learn more about Dr. Hale and his dental services visit his website at http://www.stephenhaledds.com and call (409) 229-4184.