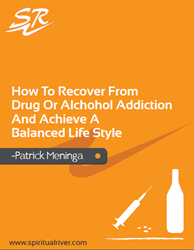 Call toll-free for alcohol and drug treatment: 1 (888) 724-3186.
Delray Beach, FL (PRWEB) October 15, 2013
Spiritual River (http://www.spiritualriver.com) columnist Patrick Meninga is proud to announce the release of his ebook "How To Recover From Drug or Alcohol Addiction and Achieve a Balanced Lifestyle". The ebook, written in an easy-to-read format and complete with enhanced visual features, is now available for viewing on Spiritualriver.com.
It is often difficult to accurately pinpoint what emotions an addict is experiencing as each respective addict has his or her own perception of their addiction and threshold for what they consider "rock bottom". It is equally as difficult for family or friends to realize when their loved one has finally reached the point where they ask for help with addiction and really mean it. Through his ebook, Meninga highlights and addresses such issues.
The overall goal of the ebook is to inform drug and/or alcohol addicts as well as friends and family of the phases that an addict is likely to go through and the different options he or she may seek in their recovery. The style of the ebook is an introspective account of the widely known problem of addiction. It aims to bring to light that which commonly goes through an addict's head when they reach "the point of no return," and shows the multiple approaches the addict can take to rid themselves of his or her addiction and lead a healthier life free from dependency.
Meninga's story serves as a representation of the thoughts and feelings of struggling addicts before and during treatment. The ebook takes the reader on a journey back through Meninga's past, into his mindset during his downward spiral towards rock bottom and his gradual incline towards achieving balance in his life when he sought help. Using his personal experiences with drugs and alcohol, Meninga explains the steps a struggling addict takes towards recovery with the ultimate goal of recovery and sobriety.
Spiritual River is a resource for individuals on treatment from drug or alcohol addiction. Spiritual River's website consists of writers who are former struggling addicts and addiction experts providing respective insight and opinions on drug and alcohol addiction and recovery. Spiritual River empathizes with addicts and recognizes that the road to addiction and recovery may not necessarily be easy, but the results are worth the journey taken.
To read the ebook for free, please visit: http://www.spiritualriver.com/free-ebook-achieving-recovery-and-balance/.