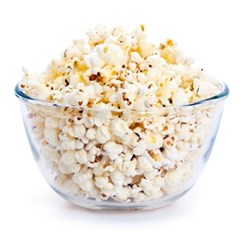 National Popcorn Poppin' Month is a great opportunity to try something fun and different with product marketing.
(PRWEB) October 15, 2013
Lightning Labels, custom label and sticker printing leader, is excited to announce October is National Popcorn Poppin' Month and is encouraging snack-makers to celebrate with custom popcorn labels.
While popcorn is known today as a versatile movie-watching staple that's often praised for its health benefits, people have been munching on the treat for ages, with the act of popping corn dating back to ancient times. According to The Popcorn Board, more recent historical accounts suggest popcorn played a role in 16th-century Aztec ceremonies and in Peruvian Indian society a century later.
The snack food gained popularity in the late 1800s in the United States and has since maintained a hold on the American snack market. Manufacturers across the country today continue to seek out unique ways to promote their popcorn and stand out from the competition, which can be done with custom food stickers from Lightning Labels.
"National Popcorn Poppin' Month is a great opportunity to try something fun and different with product marketing," said Julie McCulley, Lightning Labels' Production Manager. "Whether they sell popcorn in mircowaveable packaging, in kernel form or popped in bags, popcorn-makers of all kinds can benefit from unique, high-quality custom labels for their food products. We offer a variety of materials and shapes to choose from to create popcorn labels that truly pop."
3 Ways to Make Food Stickers Pop like Popcorn This Fall:
Popcorn manufacturers looking to revamp their food stickers this season should consider highlighting the unique qualities that set popcorn apart from other snack foods. Here are three design ideas to create food stickers that attract and intrigue consumers:
1) Include Popcorn Health Benefits on Food Sticker Labels: Popcorn is a whole grain that's naturally low in fat and calories compared to other snack foods. According to The Popcorn Board, the treat has between 30 and 55 calories per cup depending on whether it's popped with air or oil. With consumers increasingly searching for foods that are both tasty and healthy, a well-marketed popcorn product is sure to catch eyes. Lightning Labels helps manufacturers create labels that command attention with bold colors, precise printing and professional label finishes to make products stand out.
2) Incorporate Falls Hues and Themes Into Custom Popcorn Labels: With Halloween and Thanksgiving just weeks apart, fall is a busy time of year for consumers and represents an important sales period for brands. As people plan to host and attend holiday gatherings or just add a bit of festivity into their daily routines, they're looking for products that embrace the season. In addition to using their product label stickers to tell shoppers about National Popcorn Poppin' Month, brands can also add fall orange and brown hues to their packaging, as well as invest in special labels for Halloween and Thanksgiving. Lightning Labels' digital printing ensures high-quality images and text, as well as rich colors, adorn products in a way that highlights their best qualities.
3) Boast Popcorn's Versatility on Food Labels: While brands may offer a variety of savory and sweet popcorn flavors, there's no reason why they shouldn't encourage consumers to use their products to concoct new snacks and treats! With Lightning Labels' printing process, businesses can include recipes and other product information in small, clean and legible print on food labels to reel in and inspire consumers.
Lightning Labels' labeling solutions don't just upgrade brands' marketing strategies, they're affordable too, so businesses can be sure the only numbers they see pop up this season are sales figures. Visit Lightning Labels' Facebook page for your opportunity to save big for 4 days, from October 15, 2013 through October 18, 2013.
About Lightning Labels:
Lightning Labels uses state-of-the-art digital printing technology to provide affordable, full-color custom labels and custom stickers of all shapes and sizes, and now offers a full line of custom packaging products. From small orders for individuals, to the bulk needs of big businesses, Lightning Labels is equipped to handle and fulfill sticker, label and product packaging projects of all types. Best of all, like the name implies, Lightning Labels provides a quick turnaround to every customers' labeling and product packaging needs. Uses for Lightning Labels' custom product labels and custom stickers include food packaging and organic food labels, wine and beverage labels, bath and body labels, and nutraceutical products, such as vitamins, essentials oils, and herbal remedies, as well as event stickers, adhesive window stickers and more. Lightning Labels strongly supports the development of environmentally friendly printing materials and carries EarthFirst PLA, a new kind of green label material made from corn instead of petroleum. While operating as a high-tech printer, Lighting Labels prides itself on its personalized customer service. Lightning Labels provides one stop shopping for all of your label and product packaging needs. For more information and to place orders online, visit LightningLabels.com. For the latest in packaging news and labeling promotional offers, find Lightning Labels on Pinterest, Twitter (@LightningLabels), Facebook, Google+ and LinkedIn.