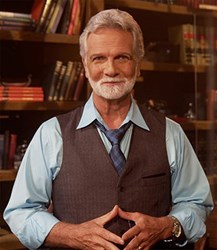 A dream can guide, warn, inspire and frighten you. Dreams originate from one of three places: the soul, God or the dark or demonic forces.
Flower Mound, TX (PRWEB) October 15, 2013
Last night you had a dream that you were at work, but had to hide in your office because your boss was turning into a zombie. When you opened your file drawer it was filled with Harry Potter sized spider. You woke in a start. But then, all day at work, the feelings and images kept coming to mind. Was this just a Halloween nightmare, or does this dream contain an important message?
"Dreams are mysteries until we discover where they come from and unlock the dream code," explains John Paul Jackson, host of Dreams and Mysteries. "Even though there are dozens of dream categories, dreams use a symbolic language that's a custom designed message for us." Jackson has interpreted over 50,000 dreams and is considered the foremost expert in biblical dream interpretation.
Long before The Walking Dead and Twilight Vampire Romances captivated the entertainment world, all religions believed that dreams, even nightmares, may come from a spiritual dimension and contain important messages. Dream journals have been found in ancient Mesopotamia and Egypt. Since the ancient of days, the content of dreams - people, places, objects, colors, animals, and numbers - have been recorded, evaluated and interpreted.
"Dreams originate from one of three places: the soul, God or dark or demonic forces," says Jackson. "A dream can warn, strengthen, heal, frighten or inspire you. We need some dreams to help process experiences or to cleanse our system like when we watch a horror movie. Other dreams come from physical issues like pregnancy, illness or too much spicy food."
To help people understand their dreams and supernatural mysteries, Jackson is hosting a new TV program,Dreams and Mysteries. Shown on Daystar Network, this weekly program provides Dream Interpretation and addresses the supernatural topics in a semi-documentary Ted Talk manner. Each Dreams and Mysteries episode focuses on a single topic such as: Justice, Psychics, Angels, Demons, Power of Choice, and the Law of Attraction.
"Fear dreams are often nightmares that cause us to focus on fear and destructive emotions. Nightmares, which are sent from dark beings, are meant to discourage us from taking action or accomplishing something that we have the potential to do. Dreams, even nightmares, if interpreted with the right dream code can provide valuable insight," explains Jackson. Here are seven nightmare images and their potential meaning according to Jackson:

Vampires – This is a person who is draining or taking the life or energy from you; which might mean you need to establish better boundaries.
Zombie – This symbol represents a person who is dead on the inside but is masking the decay by acting alive. It's best to not be infected by their thoughts and behaviors.
Spiders can represent something waiting to capture and poison you. It could also be a warning of destructive thoughts or behaviors you need to correct.
Falling dreams – Falling means that something in your life is out of control or that you are losing ground on an issue. This may not be a bad dream just reflective of your emotional response to change.
Nazi solider - Can represent a negative, destructive force that wants to oppress your life, spirituality, business or growth.
Snakes – Represent tales, gossip or lies that are being told about you.
Police officer can represent a protective force around you, or be a warning that you need to arrest or stop something that you are doing.
"Dreams and nightmares are a mystery, and the key to understanding begins with an ancient Hebraic code," Jackson concludes. "Imagine if the dream you had last night, contained the answer that you had been looking for and you didn't know it? Discovering the meaning of a dream can be life changing."
Dreams and Mysteries with John Paul Jackson can be seen Thursdays at 10:30pm EST and Wednesday 4:00pm EST on the Daystar Network.

John Paul Jackson is considered an international leader in Dream Interpretation and Christian Spirituality. As an author, speaker and teacher, Jackson has impacted the lives of thousands through the Streams Training Center and publications. For more information about John Paul Jackson or Dreams and Mysteries, http://www.streamsministries.com/, http://www.dreamsandmysteries.com
Numbers In Dreams Are Important, According to All Religions, John Paul Jackson Explores Supernatural, 8/30/13
Video, Can Dreams Tell Your Future, CBS Dallas Oct. 28, 2011
Dream Interpretation in Ancient Cultures, J. Donald Hughes, University of Denver.