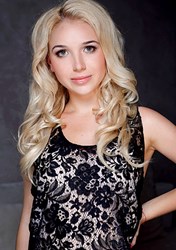 (PRWEB) October 17, 2013
AnastasiaDate.com, the leading international dating service, is attracting thousands of new members every month. Men and women from all over the world are hearing about the exclusive dating service, and rushing to register so they can experience top quality online dating too. The company announced the exciting news recently after recording rising membership figures in recent months.
AnastasiaDate.com is known for providing an exclusive service for high caliber people. It is attracting some of the world's most successful men, who are keen to connect with attractive and charming international ladies. Particularly for American men, the chance to meet ladies who are exotic and beautiful is too tempting to resist. And these are the types of ladies they would never meet without AnastasiaDate.com.
The company is extremely proud of its reputation as one of the world's leading dating websites. By offering such a high quality service, it is attracting the best single people, and they are spreading the word about how effective the service is. AnastasiaDate.com uses the combination of premium membership services and the latest technology to make its dating website one of the world's best.
AnastasiaDate.com is a wonderful way for international ladies to meet the best quality men too. Not only are these ladies beautiful, but they are intelligent and successful in their own right. They are looking for a way to meet successful men who understand how to treat a lady.
The company recently announced improvements to its website, and it is continuing to go from strength to strength. So it is no surprise that it is attracting such high caliber members from all over the world. As numbers grow, the company's reputation strengthens, which attracts even more people to join. It's a fantastic formula for a highly successful enterprise, one that is the envy of many other online dating services. There is no doubt AnastasiaDate.com is one of the leading dating websites available, and that it will continue to dominate the industry because of its excellent reputation.
The company is also proud that it is instrumental in helping so many charming couples to connect with each other and find lasting romance.
Only recently AnastasiaDate.com shared news of engagements and happy couples who were committing to each other. It is wonderful to know that the service it provides is helping people to find lasting happiness and love in such a modern and exclusive way.
AnastasiaDate has worked hard to deliver a high quality online platform where beautiful women can safely meet and connect with some of the world's most handsome and successful men. There is no other site offering such a unique combination of member services, technological innovations, and opportunities to meet international mates.
By creating such a special environment, increasing numbers of people are attracted to the service and this is why the membership figures are continuing to grow each month. For people who are looking for companionship and romance, and who hope to find love online, it seems there is no better option than an exclusive membership with AnastasiaDate.
About AnastasiaDate
AnastasiaDate is the leading international dating service that facilitates exciting and romantic companionship with beautiful and interesting women from all over the world. Founded in 1993 by a Russian-American couple, AnastasiaDate now has over 4 million international users and attracts more than 10 million online visits monthly. Additionally, over 1.5 million conversations are exchanged onsite daily. AnastasiaDate is committed to member safety, customer satisfaction and the ongoing pursuit of innovation.
Headquartered in Moscow and New York with additional representation in every country it touches, AnastasiaDate provides a high level of customer service to a worldwide clientele. AnastasiaDate users are able to communicate across a variety of top-notch multimedia platforms, including video chat and a mobile app for Android devices available in the Google Play store.