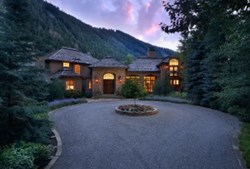 Sun Valley, Idaho (PRWEB) October 16, 2013
The Sun Valley Idaho real estate market took a hit during the month of August when summer visitors and locals were forced to evacuate due to the beaver Creek fire. Although very few building structures were actually harmed during this buyer, the real estate market took a downturn for the month of August. Since then, Realtors and brokers at Coldwell Banker Distinctive Properties have seen a turnaround in the real estate market and more homebuyers and seasonal buyers returning area.
This report is according to the Coldwell Banker real estate market for October, 2013. There are currently 224 properties for sale within the Sun Valley region priced from $139,000 for a condo/townhome to $10,000,500 for a single-family six bedroom luxury resort retreat. The condo and townhome market alone is priced from $139,000-$1,295,000 for a four bedroom condominium in Sun Valley.
The average listing price is currently $900,000 with the median sales price of about $750,000. The majority of homes in Sun Valley are priced from $500,000-$900,000 which includes single-family homes, condominiums, apartments, townhomes and lots.
Coldwell Banker Distinctive Properties have seen an increase in home sales, listings and buyers on the market up from July and August of this year. The company's projections are for a productive and active winter season, the most popular season for tourists and locals in the Sun Valley Idaho area.