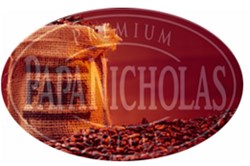 We strive for a sustainable business with a social responsibility that applies to everyone within our supply chain.
Batavia, IL (PRWEB) October 18, 2013
Fair Trade and Fair Living Wage are important social issues, especially for the Coffee industry. Coffee is the second largest traded commodity in the world. Coffee is grown commercially in more than forty-five countries. Many of these coffee growers operate in third-world, non-industrialized countries. The majority of those working in the coffee industry are involved with the cultivation and harvesting of coffee plants. The fair treatment of this workforce is an important tenant of Fair Trade and Fair Living Wage initiatives. So, how can a US-based coffee producer impact the fair treatment of these workers?
The PapaNicholas Coffee Company is a Chicago-based coffee producer that has been operating for more than 28 years. The Leaders at PapaNicholas Coffee understand their social responsibility and take it very serious. This role has a material influence on their trading practices. PapaNicholas Coffee partners with a network of green coffee suppliers, individual farms and estates that span as many as 15 different countries. They place great value on their partner relationships and have been cultivating them for more than 28 years. Although these growers have diverse geographies and cultures, they share a common denominator – high quality standards.
Coffee industry statistics show that only 20 percent of harvested coffee beans are considered to be a premium bean of the highest quality. These beans are grown at higher altitudes and must be hand-picked. PapaNicholas Coffee buys the highest quality coffee in the world and pays a premium for this quality. This premium is called a "differential" cost, and is well above the prevailing market rates for coffee. The Leaders at PapaNicholas Coffee believe that the high-quality producers have the best Fair Trade practices. They share the same social responsibilities and attitude toward Fair Trade. They use part of the differential to ensure that their people are treated well and paid a Fair Living Wage. In addition, the quality producers are sensitive to their ecological environments and support organically grown products and employ practices that preserve their land which is their greatest resource.
On an annual basis, representatives from PapaNicholas Coffee visit their partner suppliers at different origins to confirm their commitment to "total quality" and Fair Trade practices. This includes good working conditions; equitable compensation; superior growing and production processes; as well as protecting the environment.
PapaNicholas Coffee Company is committed to quality as it relates to all aspects of their business. As an organization, they strive for a sustainable business with a social responsibility that applies to everyone within their supply chain. According to owner/operator Chris Papanicholas, "We have an unwavering commitment to quality and support a fair and prosperous global economy for all."
About PapaNicholas Coffee Company
The PapaNicholas Coffee Company is a privately owned coffee producer established in 1982. The current business operation and manufacturing facilities are located in a suburb of Chicago, Illinois. The Papanicholas family is deeply rooted in coffee. With more than one hundred years of experience and three generations working in the coffee industry, PapaNicholas Coffee provides the highest quality coffees and espressos available.