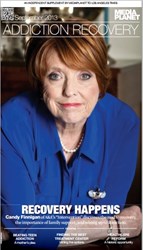 The good news is that recovery from addiction happens every day in America.
(PRWEB) October 18, 2013
Mediaplanet Publishing recently announced the launch of "Addition Recovery," a cross-platform campaign that was distributed as a 6-page broadsheet section within the Los Angeles Times on Saturday, September 28th, and digitally across a network of online platforms, reaching over 2 million readers.
The multi-platform campaign serves as a guide for addiction awareness, providing families and addicts alike with the inspiration and resources they need to kick the habit. To view the full publication, click HERE.
The awareness campaign aims to address and reverse the stigma associated with addiction. It succeeds in uniting the organizations and companies working at the forefront of addiction recovery, including: Candy Finnigan of A&E's "Intervention", The National Association for Addiction Treatment Providers, A New PATH, The American Civil Liberties Union, and The California Association of Alcoholism Drug Abuse Counselors.
"This will be one of the most important decisions you've ever made," states Michael Walsh, President and CEO of NAATP in the campaign's foreword, in reference to seeking addiction treatment. "The good news is that recovery from addiction happens every day in America," he goes on to say.
"You have to get professional help," says Candy Finnigan of A&E's "Intervention, who encourages parents and families to be anti-drug advocates. She suggests monitoring kids' social media accounts, looking around the house for alcohol, pills or other drugs and monitoring spending and credit card statements.
By raising awareness and highlighting solutions and resources, we can undoubtedly inspire more action to be taken, stigmas to be broken, and together celebrate the fact that recovery happens. Through the publication, readers will learn about a variety of topics including:

Vetting Treatment Center Options
Addiction Counselor Education
The Historic Opportunity that is Healthcare Reform
Inspirational Stories of Recovery
Addressing Family Members with Addiction
Teen Addiction
Special thanks:
This campaign was made possible with the partnership of a number of leaders in the addiction community including: Candy Finnigan, The National Association of Addiction Treatment Providers, Drug Policy Alliance, The American Civil Liberties Union, California Association of Alcoholism & Drug Abuse Counselors, Parents for Addiction Treatment & Healing, The Partnership at Drugfree.org, TheFix.com, KLEAN Treatment Center, CLARE Foundation, Morningside Recovery, Newport Academy, New Method Wellness, Inspire Malibu, Betty Ford Center, & The Fellowship Center.
About Mediaplanet
Mediaplanet is the leading independent publisher of content-marketing campaigns covering a variety of topics and industries. We turn consumer interest into action by providing readers with motivational editorial, pairing it with relevant advertisers, and distributing it within top newspapers and online platforms around the world.