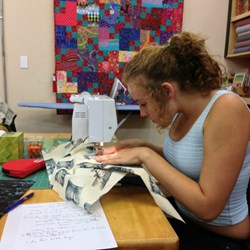 San Luis Obispo, California (PRWEB) October 15, 2013
"I have never used this sewing machine and I don't know how to sew on it." This announcement has often been made by students arriving to take one of the beginning sewing classes offered at Picking Daisies. Students have told us that they've been searching for a class where they would learn the basic operations of their sewing machine, but none seemed to exist. To fill this void, Picking Daisies is now offering a new class: Sewing Machine Basics, which is the class you take BEFORE the beginning sewing class.
Picking Daisies sells their beautiful modern quilt fabric and cotton napkins on their website and in their brick and mortar store located in downtown San Luis Obispo. The sewing classes all take place in their lively downtown store.