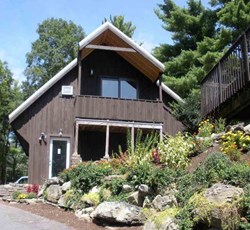 Masterful views and over 19 acres
Stone Ridge, New York (PRWEB) October 16, 2013
Nutshell Realty, a landmark in Ulster County New York for years and a solid Prudential Real Estate Brokerage, is proud to present a new listing in Stone Ridge New York priced at $499,000. This three-bedroom and three-bath home was constructed and built in 1983 and features expansive views, wraparound porch, and ideal mountain living. A private and yet contemporary style home with post-and beam accents, it features over 1700 ft.² of living space on 19 acres.
This home, MLS #20133263, offers a three-car garage, loft and finished attic space, sand bed under the house, passive geothermal exchange system for heating facilitated by a wood stove which redistributes heat throughout household events as well as master bath, 9-foot ceilings, skylights, insulated windows and walk-in closets.
Nutshell Realty offers this unique home to home buyers that appreciate outdoor living with rock walls, open floor plan, ample storage space, outbuildings, rock gardens, and expansive views of the Valley and the mountains. Average listing price for this area is $367,000 but the majority of homes in this area do not feature this extensive of acreage.
Nutshell Realty provides free tours for this available home, additional information, financing options, and answers to your questions about real estate within Stone Ridge and surrounding areas of Ulster County.