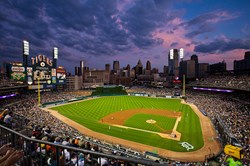 Denver, Colorado (PRWEB) October 15, 2013
The frantic postseason finish to the 2013 MLB Baseball season continues today with the Detroit Tigers hosting the St. Louis Cardinals at 41,255-seat Comerica Park in Detroit, Michigan for the ALCS Game 3.
In Game 1, the Tigers came within two outs of the first combined no-hitter in postseason history, striking out 17 to beat Boston 1-0. The majors' highest-scoring team during the regular season, the Red Sox were shut out at Fenway Park in the postseason for the first time in 95 years.
Then, last Sunday, the Red Sox came storming back from a 2-4 hole with slugger David Ortiz's dramatic grand slam to catch and edge the Tigers 6-5 and tie the series at 1-1.
In the NLCS, the Los Angeles Dodgers host the St. Louis Cardinals again tonight in Game 4. While the results of last night's game were unavailable at press time, the Cardinals have been able to slip by the Dodgers twice, winning 1-0 in the first two games of the series.
Game 5 (if necessary) will be played tomorrow, Wednesday, October 16 at 3:07 p.m. The park, with an official capacity of 56,000, is baseball's largest venue. Games 6 and 7, if necessary, will be played in St. Louis on Friday, October 18 and Saturday, October 19, 2013.
Game 4 of the ALCS will be held tomorrow as well, with Game 5 on Thursday October 17. Games 6 and 7, if necessary, will return to Fenway Park on Saturday and Sunday, October 19 and 20, 2013.
"MLB Baseball postseason tickets are trending at the top of our best-seller lists, along with NFL, NBA and NHL Hockey tickets," said Felina Martinez at buyanyseat.com.
"That's why we're proud to offer sports fans the most comprehensive and continuously updated selection of sports tickets online, with a worry-free guarantee to protect their purchase," said Martinez.
"To access the full line-up of MLB Baseball tickets now available, customers can go to BuyAnySeat.com and search for the MLB Baseball – then select their team and their tickets," said Martinez.
This year's postseason appears to be dominated by parity and pitching, despite the fact that the Boston Red Sox, Detroit Tigers, and St. Louis Cardinals were the three highest-scoring teams in baseball this year. So far, 13 of the 23 MLB postseason games have been decided by only one or two runs.
Last Saturday was the first day in baseball history with two 1-0 postseason games on the same day. In fact, there have been three 1-0 postseason games in the past week, whereas the total 1-0 postseason games in the previous 11 years (2002-2012) has been just three.
Also, in this year's hit-starved postseason, one out of every three batters has struck out or walked. That's a total of 546 of 1,627 batters, or 34 percent of all plate appearances, without a hit.
Postseason games this year are averaging 17.48 strikeouts per game. That's up 16 percent from the regular season average of 15.1 strike outs per game this year, and up 51 percent from how the game was played just 20 years ago with 11.6 strikeouts per game. (Source: SportsIllustrated.cnn.com, 10/13/2013)
Game 1 of the 109th World Series is scheduled for Wednesday, October 23 in the ballpark of the AL champions, by virtue of that league's victory in the All-Star Game. Game 3 of the Fall Classic will shift to the city of the NL champs on Saturday, October 26.
The scheduled off-days during the World Series are Friday, October 25, and Tuesday, October 29. A Game 7, if necessary, would be played on Thursday, October 31 – the night of Halloween – in the AL city.
This year, the NL will seek to make it four straight, following championships won by the Giants in 2010, the Cardinals in 2011 and the Giants again last year.
MLB Baseball has the highest season attendance of any sports league in the world. (Source: wikipedia.org)
To shop for discount MLB Baseball tickets, visit BuyAnySeat.com.
About BuyAnySeat.com: An online ticket marketplace, BuyAnySeat.com connects sports, theater and other live entertainment fans to an extensive network of ticket sellers worldwide. The site's simplified listings and navigational tools enable shoppers to easily locate, compare and purchase inexpensive, discounted or lower-priced tickets to virtually all advertised sports and entertainment events around the globe.
The ticket marketplace, which is PCI-compliant and Norton Secured, also provides customers with a complete Worry-Free Guarantee on all ticket purchases. Based in Denver, Colorado, BuyAnySeat.com is a subsidiary of Denver Media Holdings. For more information, please visit http://buyanyseat.com.