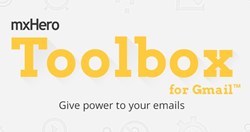 Whether your sending a sales proposal or family photos - tracking recipient engagement can be critical!
San Francisco, CA (PRWEB) October 16, 2013
mxHero's Email Toolbox adds Click Tracking and Remind Me to its popular Gmail add-on.
The new Email Toolbox app, Click Track, allows users to track recipient engagement by instantly notifying the sender when an attachment or link in a message is clicked. The notification includes not only which recipient but which link or attachment was accessed. Unlike traditional Read-Receipts that can be circumvented by recipients, Click Track can not be bypassed. Also, unlike Read-Receipts, click tracking is practically invisible to the message reader.
Email Toolbox's, Remind Me app, helps users to better manage their email in-box by enabling messages to be delivered at a time of the user's choosing. Messages that do not require immediate attention can now be scheduled for later delivery when more convenient. Users can even have messages brought back to their attention only if the message goes unanswered by other recipients.
Alex Panagides, CEO of mxHero, "We are pleased by the public's response to mxHero's Email Toolbox. The product is evolving rapidly and delivering on its promise to be that one email app that empowers users in useful ways. We have an amazing pipeline and are excited to see our efforts being recognized."
About mxHero
mxHero is an email enhancement platform and app store that gives companies, service providers and end users powerful new ways to control, use and analyze email. Apps developed for mxHero's platform work with any email management program, including Gmail and Microsoft Exchange. More than 5,500 companies with 350,000 users have added mxHero to their email capabilities.