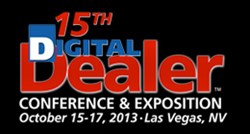 Amarillo, Texas (PRWEB) October 14, 2013
Interactive 360 executives will attend Digital Dealer 15 Conference and Exposition, in Las Vegas, this week and are expected to unveil the automotive industry's newest customer relationship management tool, Drive360®CRM. Throughout the conference, the company will be located at Booth #1131. The Interactive 360 executives will be holding demonstrations of the Drive360®CRM, as well as the four service packages the agency offers: The Drive Package, Conversion Package, Retention Package and Retention Plus Package.
Due to expected demand, the executives are scheduling demonstrations both on-site in Las Vegas and after the show via GoToMeeting.
Along with the unveiling of Interactive 360's Drive360®CRM, the agency plans to debut its refreshed website touting an easier user interface that will allow users to access key information quickly and efficiently. Included in the website is the company's new Vendor Calculator. The calculator will allow users to select their current marketing and technology tools and compare their total service and cost to an Interactive 360 package. With this tool, Interactive 360 provides competitive pricing through the means of buyer education.
The Digital Dealer Conference & Exposition is the premier educational conference and exposition dedicated to Internet and technology solutions for automotive professionals. Second in size to the NADA Convention and Expo, it allows dealers and managers an innovative conference format in which to participate in a large array of speaker sessions, peer to peer opportunities and exhibit hall offerings designed to impart cutting-edge business strategies. For more information about the Digital Dealer Conference and Exposition, please visit the conference website.
Interactive 360, Inc. is a digital marketing agency based in Amarillo, Texas that offers a "one-stop solution" of products and services for their clients in the automotive industry, including: custom website, inventory management, Drive360®CRM, monthly onsite training, social media marketing and PPC marketing campaigns to name a few. Rick McLey, CEO of Interactive 360, Inc., believes "that in order for Interactive 360, Inc. to best serve clients in the digital arena, one cannot fear change but embrace it and constantly be eager to improve." For any questions you may have, please contact Interactive 360, Inc. via their website or by phone at 806.576.3700, or toll free at 888.762.7407.