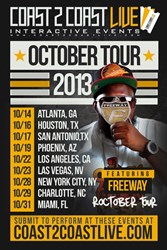 New York, NY (PRWEB) October 15, 2013
Coast 2 Coast LIVE announces October 2013 Tour, featuring Platinum recording artist Freeway. Coast 2 Coast LIVE will also bring celebrity judges including DJs, Producers, A&Rs, and more to every tour stop, to give indie artists an opportunity to network and perform for prizes. Artists can submit to perform at any of the dates on the tour at Coast 2 Coast LIVE.
Each event on the tour will feature an artist showcase that will be judged by various celebrity judges spanning the music industry. Judges in the past have included multi-platinum and Grammy nominated artist Warren G, the #1 DJ in the South Bigga Rankin, Grammy winning producer Rockwilder, and more.
Philadelphia Hip Hop legend Freeway has seen it all in the Hip Hop game. Giving up the crime-ridden street life of the North Philly corners to join the ranks as one of Hip Hop's greatest contributors, Freeway is an industry vet who can genuinely express that "been there, done that" sentiment in all that he creates. Freeway's stellar recording debut on "1-900-Hustler" was a feature track on the multi-platinum The Dynasty: Roc LA Familia brought to you by Jay Z and Roc-A-Fella Records. Freeway hit the ground running selling over 500,000 copies of his first album, Philadelphia Freeway, in 2003; followed by the 2007 release of Free at Last, Freeway's sophomore album, a Roc-A-Fella release cosigned by Jay-Z and 50 Cent. Getting back to the basics Freeway more recently joined forces with Rhymesayers as well as independently releasing a series of free singles, mixtapes, and three full length albums featuring the likes of Brother Ali, Beanie Segal, Raekwon, Young Chris, Birdman, Bun-B, and many more. Now on tour with Coast 2 Coast LIVE, Freeway is bringing his experience and energy to the next generation of Rap stars tearing up the stage and reminding everyone what true Hip Hop is all about.
October Tour Dates:
10/14/13 - ATL Edition
Harlem Nights | 201 Courtland Street Northeast Atlanta, GA 30303 | Age Limit: 21
10/16/13 - Houston Edition
Warehouse Live | 813 S Emanuel St. Houston, TX 77003 | Age Limit: 21
10/17/13 - San Antonio Edition
Coco Lounge | 18402 U.S. 281 San Antonio, TX 78259 | Age Limit: 21
10/19/13 - PHX Edition
The Big Fish Pub | 1954 East University Drive Phoenix, AZ 85281 | Age Limit: 21
10/22/13 - LA Edition
Dragonfly | 6510 Santa Monica Blvd. Los Angeles, CA 90038 | Age Limit: 21
10/23/13 - Vegas Edition
The Beauty Bar | 517 Fremont St. #150 Las Vegas, NV 89101 | Age Limit: 21
10/28/13 - NYC Edition
Tammany Hall | 152 Orchard St. New York, NY 10002 | Age Limit: 21
10/29/13 - North Carolina Edition
The Chop Shop | 399 E. 35th St. Charlotte, NC 28205 | Age Limit: 18
10/31/13 - Miami Edition
Villa 221 | 221 NE 17th St. Miami, FL 33132 | Age Limit: 18
To find out more about the Coast 2 Coast LIVE March Tour, visit the website. Artists can submit to perform by going to http://www.coast2coastlive.com and media, DJs and models can register for free to any events at http://www.coast2coastlive.com/events.
About Coast 2 Coast LIVE:
Coast 2 Coast LIVE tours in over 10 cities every month to bring indie artists major opportunities through our interactive showcase events. Artists submit via the website and get votes to perform in their city, judges critique the artists in various categories to find a winner for every city to take their music career to the next level. For more information, visit http://www.coast2coastlive.com.