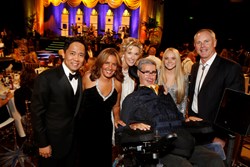 "The gala was a night of hope and inspiration to all involved, and it's incredibly humbling to know that there are so many supporters who care deeply about this cause," said Augie Nieto, founder of Augie's Quest.
Los Angeles (PRWEB) October 15, 2013
Hundreds of business and civic leaders from Southern California donning flapper dresses and zoot suits ''swung' into fundraising action at the eighth annual Tradition of Hope gala on Oct. 12 to raise more than $1.2 million to benefit the Muscular Dystrophy Association's Augie's Quest initiative.
Held at the Beverly Hilton Hotel, guests attending the 1920s-themed soiree began the evening at a swanky cocktail party that was raided by prohibition-era Constables, who led everyone into the ballroom for a lavish dinner, award presentations, and live and silent auctions to raise funds that will help speed research seeking treatments and a cure for ALS (amyotrophic lateral sclerosis or Lou Gehrig's disease).
ClubCorp President and CEO Eric Affeldt surprised attendees by generously matching all ALS research donations up to $200,000. David Pyle, founder and CEO of American Career College and executive chairman of the board of West Coast University, and his family also matched up to $100,000 to support the Augie's Quest initiative.
"The gala was a night of hope and inspiration to all involved, and it's incredibly humbling to know that there are so many supporters who care deeply about this cause," said Augie Nieto, founder of Augie's Quest. "I am grateful to all those who are committed to helping Augie's Quest by participating in events like Tradition of Hope so we can continue our progress toward ending this terrible disease."
Live entertainment was provided by NBC's "The Voice" season four winner Danielle Bradbery, a 17-year-old country singer who is set to release her self-titled debut album later this fall. Bradbery concluded her performance at the event with an emotional rendition of the classic song "Somewhere over the Rainbow" and dedicated it to Nieto.
The event was emceed by Emmy award-winning CNN anchor Suzanne Malveaux whose mother received a diagnosis of ALS two years ago.
The 2013 Tradition of Hope honorees included Affeldt, who was presented with the Champion for ALS Award, and CommerceWest Bank Chairman and CEO Ivo A. Tjan, who was honored with the Robert Ross Founder's Award.
Affeldt is responsible for all aspects of domestic and international operations for ClubCorp, a leading owner-operator of private golf and country clubs, business, sports and alumni clubs in North America. ClubCorp has partnered with MDA for its major annual philanthropic open-house event, the Club Corp Charity Classic, since it began in 2007. Now in its seventh year, the ClubCorp Charity Classic has raised more than $10 million to benefit numerous charities, including MDA's Augie's Quest.
Tjan is the founder of CommerceWest Bank and launched an Initial Public Offering in 2001. CommerceWest Bank, a full service commercial bank with a unique vision and culture of focusing exclusively on the business community, is headquartered in Irvine, Calif., with regional offices serving Orange County, Inland Empire, Los Angeles and San Diego. Tjan supports a variety of charities in Southern California, including MDA's Augie's Quest.
About the Tradition of Hope Gala
Since 2005, the Tradition of Hope Gala has raised money and awareness for MDA Augie's Quest, a fast-track ALS research initiative dedicated to raising awareness and funds for individuals living with the rapidly progressive neuromuscular disease.
Augie's Quest is named for philanthropist and fitness industry pioneer Augie Nieto, who has been fighting ALS since his diagnosis in 2005. Nieto is co-founder and former president of Life Fitness of Chicago, and chairman of Octane Fitness. To date, Augie's Quest has raised more than $39 million for ALS research.
ALS attacks the nerve cells that control voluntary muscles, including those used for swallowing and breathing, causing weakness and eventually total paralysis. The average life expectancy for people with the disease is three to five years after diagnosis.
About MDA
The Muscular Dystrophy Association is the world's leading nonprofit health agency dedicated to finding treatments and cures for muscular dystrophy, amyotrophic lateral sclerosis (ALS) and other neuromuscular diseases. It does so by funding worldwide research; by providing comprehensive health care services and support to MDA families nationwide; and by rallying communities to fight back through advocacy, fundraising and local engagement. Visit mda.org and follow us at facebook.com/MDAnational and @MDAnews.