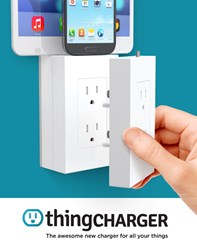 Thousands will be given away free throughout the campaign!
New York, NY (PRWEB) October 15, 2013
thingCHARGER has announced the launch of its new charging solution for smartphones, tablets and other mobile devices. This device is the first universal wire-less wall charging unit and lets you charge one or multiple things at once, from any standard outlet, free of messy charging wires.
The thingCHARGER unit easily plugs into any existing outlet, instantly creating a neat charging station which keeps the outlets free to use. The sleek design virtually disappears into the interior design of a home and offers a new, stylish way to charge any of the billion+ USB devices, on the planet.
How can one product charge so many things? Very easily. thingCHARGER has interchangeable charging 'tips' which can be swapped in seconds and store conveniently in the back. It will ship with Apple 30-pin, Micro-USB and Mini-USB tips as well as the Lightning connector for newer Apple devices. With thingCHARGER, you'll always be ready to charge any phone, any tablet, any device from any brand like Apple, Samsung, HTC, Sony, Motorola, Nokia, LG including iPhone 5S, 5C, 5, 4S & 4, all iPads, Samsung Galaxy S4 & S3, Galaxy Note, HTC One and countless others.
"Just one thingCHARGER allows you to turn any regular US outlet into a charging station for up to 3 devices – and still keep both outlets free to use. People love that you can plug 2 or 3 thingCHARGERs together and charge all your things at once," said Seymour Segnit, Founder and Inventor of thingCHARGER. "We've been blown-away by the response in social media. Everyone seems to want thingCHARGER NOW! so we're thrilled to launch on Indiegogo.com and let everyone who loves their mobile devices to participate in bringing this amazing product to market."
"thingCHARGER is poised to be the go to charging station for all your tech needs. No longer will you have to search room to room to find devices or free plug space. It's like a dream come true note just for tech geeks like me – but everyone who owns a smart device," said Stormy Beach, Senior Editor, AndroidSPIN.com.
To celebrate this launch, thingCHARGER is offering a bonus free thingCHARGER to the first 300 who support the launch from as little as $1 at http://awesome.thingCHARGER.com starting 9 am EST on October 15th, 2013. Beyond that, the company is giving away thousands throughout the campaign promotion!
About
thingCHARGER is a patent pending product invented by Seymour Segnit, an inveterate entrepreneur and former advertising executive. He initially created the invention for his own use, then based on an extraordinarily enthusiastic response to test marketing, determined its broad market appeal. He and his wife, Creative Director Amy Segnit, founded thingCHARGER in 2013 and are poised to deliver the first units to customers in Q1 2014. Their company is headquartered in New York, NY. Everyone is invited to participate in thingCHARGER's launch through a crowdfunding campaign which goes live on Indiegogo October 15, 2013. The product easily fits into every room in every home, office, boardroom, hospital, community center, airport, rail station, bar, restaurant, hotel and any place people need to power their things. For more information, visit http://www.thingCHARGER.com or contact Sheila Stewart at 303-378-2022.
Product Highlights:

Fits any standard US twin outlet, and keeps it free to use.
Frees the world of the tyranny of messy charging wires, and keeps desks and countertops clear.
Plug 2 or 3 thingCHARGERs together and charge all your things at once.
Charges over a billion devices thanks to interchangeable charging tips which store neatly in the back
2 built-in USB ports, just in case
Green by design – most chargers use power when plugged in unused. thingCHARGER has a simple switch – just click for conservation.
Extremely portable – less than 1-inch THIN…slim never looked so sexy!
Product Specs:

Plug Type – twin standard U.S. 3-pin plug
Charger Output Voltage – Standard USB 5 volts DC
Charger Outlet Types –
- One on top with interchangeable charging tips (which swap in seconds)
- Two USB outlets underneath
- Two U.S. 110 volt twin outlets on the front for regular appliances

Input Voltage – 108-252 volts AC
Weight – 6.5 oz
Dimensions – 3" wide x 4.8" tall x 0.8" thin
###