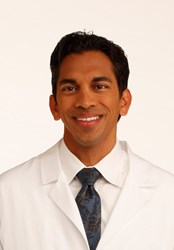 San Diego, Calif. (PRWEB) October 16, 2013
San Diego LASIK surgeon Dr. Mihir Parikh of NVISION Laser Eye Centers in La Jolla was named Top Doc by San Diego Magazine for four years in a row. This year, Dr. Parikh was one of only 749 physicians, and one of only 17 ophthalmologists, in San Diego honored in this month's issue of the magazine.
The San Diego County Medical Society (SDCMS), working collaboratively with San Diego Magazine for a decade, identified those board certified physicians within the county who are held in highest regard by their peers. Any board certified physician in San Diego, not just members of the SDCMS, may vote for any board certified doctor who practices within San Diego County to whom they would refer their patients and family members. In 2013, 1,300 physicians voted with a selection rate of 7.4 percent.
As the San Diego Chargers Official Team Ophthalmologist, Dr. Parikh knows the importance of precision in LASIK San Diego procedures. And, having undergone LASIK surgery himself, he understands the process both as a surgeon and as a patient.
Board certified for more than 10 years, Dr. Parikh has performed more than 12,000 LASIK surgery procedures, including many patients who are San Diego Chargers players. He specializes in LASIK, PRK, LASEK, cataracts, intraocular lenses, custom LASIK and Wavefront technology, intrastromal corneal rings (Intacs), and CK. He was one of the first West Coast surgeons trained in custom Wavefront treatment technology.
About NVISION Laser Eye Centers
NVISION Laser Eye Centers is an innovative leader in lifestyle surgical eye care with17 locations throughout California. NVISION Laser Eye Centers is the first provider in California to offer LASIK eye surgery with the Swiss-engineered Ziemer Femto LDVD Crystal Line™ Laser. In addition, NVISION is the first provider in California to offer the bladeless, computer-controlled LenSx laser -- unquestionably the most technologically advanced option for laser cataract surgery, and the first in the nation to offer Avellino DNA testing for an added level of LASIK safety.
With more than 1300 eye doctors who refer their patients and trust their own eyes to NVISION surgeons, NVISION Laser Eye Centers is the Eye Doctors' #1 Choice®. For more information, visit http://www.NVISIONCenters.com or call 1-877-91NVISION (1-877-916-8474).