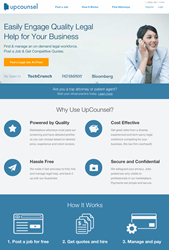 Over 200 New York businesses registered to use UpCounsel prior to the launch.
NEW YORK, NY (PRWEB) October 16, 2013
UpCounsel, the easiest way to get amazing legal services, is announcing the launch of their New York operations, marking its first expansion outside of California. Businesses and entrepreneurs in New York can now leverage UpCounsel's technology and online workforce of vetted legal professionals to get high quality and affordable legal services for trademarks, patents, copyrights, incorporations, lease reviews and commercial contracts. UpCounsel attorneys can also handle more sophisticated legal work such as securities, tax, M&A and litigation.
"Thousands of California businesses from San Francisco to San Diego already know that UpCounsel is the easiest way to get high quality, on-demand and affordable legal services for any legal need" said Matt Faustman, CEO and co-founder of UpCounsel. "We chose New York as our next market because it has one of the highest concentrations of businesses and lawyers in the country." Faustman points to the fact that "over 200 New York businesses registered to use UpCounsel prior to the launch."
How does UpCounsel work? UpCounsel's powerful platform allows large and small businesses to easily access a talented community of vetted independent lawyers for nearly any legal need. Businesses simply post a job in the UpCounsel marketplace and within 24 hours receive proposals to do the work - usually on a fixed fee basis. Clients can interview their attorneys and then hire, manage and pay them all over UpCounsel. Attorneys on UpCounsel are pre-screened and reviewed by previous customers. UpCounsel backs it all up with a $5000 guarantee.
UpCounsel works behind the scenes to provide a virtual back-office for their lawyer community, allowing them to drastically cut traditionally high overhead costs. "We are now making legal services accessible for every business," Faustman says. New York represents the first expansion for UpCounsel, which was previously only available in California.
About UpCounsel
UpCounsel is the easiest way to get amazing legal services. The company is disrupting the traditional law firm model with its marketplace and distribution platform that gives businesses access to an on-demand workforce of vetted attorneys. The company has raised $1.5M in funding to date from AngelPad, Homebrew, Collaborative Fund, SV Angel and Bobby Yazdani. Learn more at http://www.upcounsel.com.