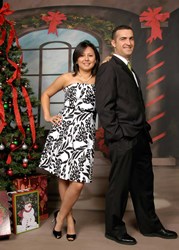 Holiday Portraits is always the best gift a Company can give to the employee!
Dallas, TX (PRWEB) October 15, 2013
As the Holiday Season kicks into high gear, companies small and large have been in the planning phase since early in the year. Christmas Holiday Party Photography and Onsite Printing Photography will be in high demand and Professional Images photography is ready to provide the very best of what they do.
Professional Images photography offers a wide variety of photographic services for any size group. Roaming photography to capture the fun and excitement is always the first thing companies want and Joseph Rodriguez's 20 plus experience always delivers. The images can be put online for the guests to view and order and with choices of packages and Holiday card selections are delivered via postal service.
Another service is onsite printing photography that provides the ability to print up to 8x10 of the couples or packages onsite and in minutes. The prints are produced in as little as 7 seconds for a 4x6 and as long as 30 seconds for 8x10 prints. Many companies are finding this the perfect addition to giving back to their employees.
Holiday Parties are fast paced and full of many activities to keep guests busy and Professional Images Photography portraits are quick and professionally photographed. Packages can be printed onsite or mailed within a week or less of the event to insure guests have plenty of time to mail photos in Christmas and Holiday cards. Green Screen Photography is another service that provides unlimited backgrounds of your choice, making any event a hit.
Professional Images photography continues to be the leader in Corporate, Convention and Event Photography. Innovation and thinking outside the box is what makes a company like Professional Images stand out from the other photography crowds. Bookings are filling up fast.
About Professional Images Photography:
Professional Images Photography provides Convention Photography, Event Photography, Event Photo Marketing, Tradeshow photography and Green Screen Photography since 1987. Based in San Antonio, TX with offices in Washington, D.C., New York, NY, Houston, TX and Las Vegas, NV.