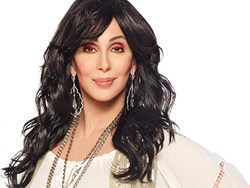 Denver, Colorado (PRWEB) October 16, 2013
Cher has reinvented herself numerous times since she shot to fame as part of the folk rock duet Sonny & Cher in 1965. Distinguished by her distinctive contralto singing voice, Cher has also become known for her dramatic roles, as well as her daring fashion statements ranging from the shocking to the sublime.
Today, as one of the best-selling musical talents of all time, she has sold over 100 million solo albums and 40 million tracks as Sonny & Cher around the globe, earning the moniker The Goddess of Pop. She is also the only artist to have a number-one single on a Billboard chart in each of the past six decades.
Now, at age 67, Cher recently announced her first road trip since her 2005 Farewell Tour. Dubbed Dressed to Kill, her latest effort is in support of her just-released 26th album Closer to the Truth, and named after one of its new songs.
The 49-city trek hits 35 states. It kicks off at the U.S. Airways Center in Phoenix, Arizona on March 22 and wraps at the Valley View Casino Center in San Diego, California on July 11, 2014.
"With a fan base stretching over three generations, Cher is trending at the top of our best-seller list," said Felina Martinez at online ticket marketplace BuyAnySeat.com.
"That's why we're proud to be able to offer fans the most comprehensive and continuously updated selection of concert tickets online, with a worry-free guarantee to protect their purchase," said Martinez.
"To access the complete inventory of Cher tickets we now have available, customers can go to BuyAnySeat.com and search for Cher – then select their tickets," said Martinez.
Following Phoenix, Cher performs in Houston, Dallas, North Little Rock, Tulsa, Nashville, Pittsburgh, Washington D.C. Uncasville, Toronto, Boston, Indianapolis, Detroit, Buffalo, Montreal, Ottawa, Philly, Columbus, Cleveland, Charlotte, Raleigh, Brooklyn, and East Rutherford.
Next are concerts in Atlanta, Jacksonville, Orlando, Sunrise, Las Vegas, Denver, Lincoln, Kansas city, Louisville, St. Louis, Milwaukee, Rosemont, Des Moines, Minneapolis, Winnipeg, Saskatoon, Edmonton, Calgary, Vancouver, Seattle, Portland, San Jose, Ontario, Los Angeles and Anaheim before wrapping in San Diego.
After becoming popular in 1965, Cher became a solo artist with million-selling singles such as "Bang Bang (My Baby Shot Me Down)", "Gypsys, Tramps & Thieves" and "Half-Breed" – daring songs that dealt with subjects rarely addressed in American popular music.
In the 1970s, she became a TV star with popular shows The Sonny & Cher Comedy Hour and Cher. After she and Sonny split in 1975, Cher experimented with various musical styles, including disco and new wave, before scoring as a successful live act in Las Vegas.
In the early 1980s, Cher made her Broadway debut and starred in the film Silkwood, earning her an Academy Award nod for Best Supporting Actress in 1983. Next, she starred in films such as Mask, The Witches of Eastwick and Moonstruck, for which she won the Oscar for Best Actress in 1988. She made her directing debut in the 1996 film If These Walls Could Talk.
At the same time, she established herself as a rock singer with platinum albums such as Heart of Stone in 1989, and hit singles like "I Found Someone" and "If I Could Turn Back Time". Over the last two decades, Cher continued to try new musical styles, including R&B and dance. She hit a new high in 1998 with "Believe", which featured the pioneering use of Auto-Tune, now known as the "Cher effect".
Cher's last outing, The Farewell Tour, renamed The Never Can Say Goodbye Tour before its long run ended, played a record-breaking 325 dates for 5.5 million fans. In 2008, she signed a $60 million per-year deal to headline at Caesars Palace in Las Vegas for three years. (Source: usatoday.com 9/23/13)
Cher has won an Academy Award, a Grammy Award, an Emmy Award, three Golden Globe Awards, and the Best Actress Award at the Cannes Film Festival, among numerous other honors. Her other ventures have included fashion designing, writing books and managing the film production company Isis.
To shop for discounted Cher tickets, visit BuyAnySeat.com.
About BuyAnySeat.com: An online ticket marketplace, BuyAnySeat.com connects sports, theater and other live entertainment fans to an extensive worldwide network of ticket sellers. The site's simplified listings and navigational tools enable fans to easily locate, compare and purchase inexpensive, discounted or lower-priced tickets to virtually all advertised sports and entertainment events around the globe.
The marketplace, which is PCI-compliant and Norton Secured, also provides customers with a complete Worry-Free Guarantee on all ticket purchases. Based in Denver, Colorado, BuyAnySeat.com is a subsidiary of Denver Media Holdings. For more information, please visit http://buyanyseat.com.