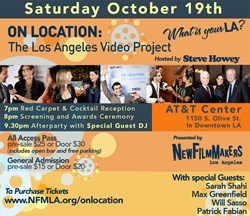 Los Angeles, CA (PRWEB) October 15, 2013
Nineteen short films highlighting the diverse beauty of Los Angeles will screen Saturday evening during the annual On Location: The Los Angeles Video Project program, presented by NewFilmmakers LA Film Festival. From block parties, midnight bike rides, and dog walks, to tourists exploring the "City of Angels" for the first time, the ever present NYC vs. LA battle, and residents achieving their filmmaking dreams, the short films will compete for cash and production prizes totaling over $65,000.
Hosting the evening is Steve Howey, from Showtime's hit series "Shameless". Celebrity presenters include Max Greenfield from FOX's "New Girl" and the upcoming Veronica Mars movie, Jeremy Allen White from "Shameless", "MADtv's" Will Sasso, and Patrick Fabian from The Last Exorcism and HBO's "The Newsroom". Additional celebrity presenters and attendees to be announced for the film fest.
A red carpet pre-reception offering treats & organic coffee from Geo's Organic Coffee & Fine Tea begins the evening, and after the short film program stay for a star-studded after party featuring hot tunes spun by celebrity DJ and URB Magazine co-founder Raymond Roker.
The AT&T Center has played host to several high profile events and productions over the years, from premieres (Showtime's "House of Lies"), to film locations (Tron: Legacy, Spike Lee's Passing Strange: The Movie).
Finalists will compete for a variety of prizes including a Grand Prize production/post package from Equilibrium Entertainment and Alternative Rentals, and a Sony "Genesis Award" winner of a production package from Sony Pictures Entertainment including professional series products such as a Full-Frame Interchangeable Lens Camcorder and more. Additional prizes include film permits from Film LA; six bundles from Entertainment Partners, including Movie Magic Budgeting 7 and Movie Magic Scheduling, and cash prizes.
Judges for On Location include filmmaking veteran producer Scott Budnick (The Hangover, Due Date), Marshall Persinger (ABC's Army Wives), Debra Martin Chase (The Princess Diaries, Sisterhood of the Traveling Pants), Steven J. Wolfe (500 Days of Summer, Baggage Claim), and film director Demian Lichtenstein (3000 Miles to Graceland), President of Film LA Paul Audley, Executive Director of SAG-AFTRA Ilyanne Morden Kichaven, and Marketing Director of LA Weekly, Shelley Leopold, along with Cliff Hsui, the Vice President of Marketing at Alternative Camera Rentals, and Kamilla Blanche, the Arts & Cultural Deputy for LA City Councilmember Tom LaBonge, District 4.
Selected finalists for the 2013 On Location: The Los Angeles Video Project include:
323: Portraits of Los Angeles - Dir. Aaron Spoto
Bob & the Midnight Ridazz: Unmarked Guide LA - Dir. Yasmin Hed
Dreams Come True in Los Angeles - Dir. Carlos de la Vega & Rudolpho Zalez
Fellow Rebel "Baby Please" - Dir. Eric McCoy
Four More Years - Dir. Pasqui Rivas
Glass Sun - Dir. Greg King
Grand Park July 4th Block Party - Dir. Darrell Lake
Hikikomori - Dir. Josema Roig
I Walk My Dog - Dir. Peter Bonilla
Los Angeles, It's Where You're Going - Dir. Joe Wesley
Make of LA: Burton Machen - Dir. Stephen French
More Than Words - Dir. Andrea Giacomini
Stay - Dir. David Horowitz & Cliff Riffo
Swervin' - Dir. Ryan Pohanic
Through The Lens - Dir. Paul Forte
Tribeca Urban - Dir. Jeremy Weiss
Uncommon LA - Dir. Kyle Blair-Henderson
Unleashed in Los Angeles - Dir. Catherine Pirotta & Seth Leik
With Love L.A. - Dir. Lexi Johnson
More information regarding the 2013 On Location: The Los Angeles Video Project is available on the official website at http://newfilmmakersla.com/onlocation/.
For media credential requests and/or screening passes, contact Jasmine McAtee at publicity(at)nfmla(dot)org.
NewFilmmakers Los Angeles (NFMLA) is a non-profit organization designed to showcase innovative works by emerging filmmakers from around the world, providing the Los Angeles community of entertainment professionals and film goers with a constant surge of monthly screening events. NFMLA provides a forum where filmmakers can be recognized for their contributions, have open audience discussions about their projects and connect with industry professionals for insight on distribution, production, acquisition and representation.