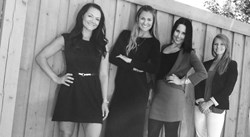 Jessie and Sara were a great pleasure to work with. They guided me through the entire selling process and helped me get my home market ready. ~William Lambertus
Edmonton, AB (PRWEB) October 15, 2013
Sara Jessie Real Estate Services - RE/MAX River City - was named to stress the term "services". Real estate services covers a whole gamut of areas, including; listing properties, marketing, showing, seeking financing, evaluating, and sometimes, even hand-holding. Through referrals and satisfied clients Sara and Jessie are at the top of their game. Their personal hands on approach and "Together We Serve You Better" attitude have made many a satisfied buyer and seller.
Real estate agents all over Edmonton compete for listings, and compete for buyers, but Sara Jessie Real Estate Services possesses a secret weapon that sets them apart from the others which they are proud to share with the public: Sara Jessie TV. Sara Jessie TV is a channel of videos that give real estate buyers and sellers a veritable plethora of useful tips and information on hot properties in the area. Sara and Jessie highlight the latest and hottest properties for sale in Edmonton.
Using Sara Jessie TV as a powerful tool combined with traditional marketing and advertising, Sara and Jessie can showcase homes for sale and condos for sale in Edmonton, and throughout Alberta, to more people than ever before. Sara and Jessie are the Edmonton real estate agents that understand the power of the Internet. This, fused with their personalities, translates into a major real estate advantage for buyers and sellers alike.
Sara Jessie Real Estate Services goes the extra mile producing installments of Sara Jessie TV nearly every week and in the meantime amassing more fans, buyers and sellers. Frankly, they are taking the Edmonton Real Estate scene by storm. This isn't just a good old boy's game anymore. Sara and Jessie are the Realtors in Edmonton to watch out for. Catch the latest installment of Sara Jessie TV today!
About Sara Jessie Real Estate Services:
Sara Jessie Real Estate Services was started by real estate power houses, and RE/MAX River City agents, Jessie McCracken and Sara Jones. Together they have closed more than 400 properties in the Edmonton area. Not only is this an impressive number, but it speaks volumes about their passion and dedication to their clients and profession. Sara and Jessie work tirelessly finding just the right buyer for just the right seller and strongly feel that with their Sara Jessie Real Estate Services team; "Together We Serve You Better!"
Related Hashtags:
#RealEstate #Edmonton #RealEstateAgents #Realtors #Alberta #HomesForSale #BuyingAHome #SellingAHome #RealEstateServices #GoogleTrending #News #BreakingNews #EdmontonProperty
Related Search Terms:
[Real Estate Alberta] [Edmonton MLS] [Real Estate Weekly] [Edmonton Homes] [Sara Jessie Real Estate Services] [Homes for Sale Edmonton] [Edmonton Real Estate] [Sara Jessie TV] [Real Estate News] [Find a Home] [Selling a Home] [Buying a Home]