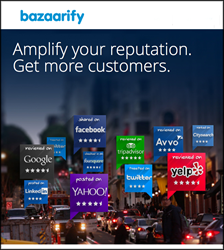 Bazaarify empowers our client businesses to manage and build their online reviews, and integrate those reviews into their mobile websites.
Sunnyvale, CA (PRWEB) October 15, 2013
Bazaarify, an emerging leader in Business Reputation Management (BRM), today announced that it has partnered with Moably, the "Mobile Website Builder," to provide business reputation management to Moably's burgeoning customer base.
For many consumers these days, a smartphone is their primary device to access the Internet, especially when they are on the go. Three out of four mobile users shop on their smartphone. The majority of these users conduct research on smartphones before they buy. For instance, Yelp reports that 59% of its search queries come from mobile devices. Without a doubt, business reviews matter — on PC and on mobile.
"We are excited about our partnership with Bazaarify," said Adam DesAutels, Founder & CEO of Moably. "Third-party validation is more important than ever now that consumers are turning to the web before deciding whether to purchase from one company or another. Bazaarify empowers our client businesses to manage and build their online reviews, and integrate those reviews into their mobile websites."
Customer reviews play a significant role in local commerce, capable of making or breaking a business," said Mike Martello, Bazaarify Head of Strategic Partnerships. "We are pleased to extend the reach of Bazaarify's reviews to Moably clients, helping them to collect and share authentic reviews, manage their online reputation, and grow their share of the $39B mobile commerce market. And, by highlighting best reviews on Facebook and Twitter, Moably clients can generate social referrals for even greater local touch and revenue conversion."
Moably is offering businesses a free online reputation evaluation, powered by Bazaarify. Businesses will be able to have their online footprint scanned and evaluated for reputation optimization.
Availability
To learn more about Bazaarify's all-inclusive service, call sales at 1-800-561-3357, or view demo at http://birdeye.com.
About Bazaarify
Bazaarify is an innovative Business Review Management (BRM) platform that creates powerful yet affordable tools for businesses to proactively listen to their customers, act upon feedback, and promote their good reputation across the web, social media networks and search engines. The company is based out of Sunnyvale, CA, and led by entrepreneurs with diverse backgrounds in Internet and social media from Silicon Valley companies such as Yahoo, Google, Amazon, and Cisco.
About Moably
Moably is a rapidly growing international mobile technology company. Its mobile website builder allows anyone to create and optimize a mobile version of their website and blog with no coding required. Five easy steps using Moably's mobile website builder will produce a quality mobile website, blog, and mobile online store.
For more information, contact William Moeller
william(at)birdeye(dot)com | 408-457-1348 | 1-800-561-3357 | http://birdeye.com