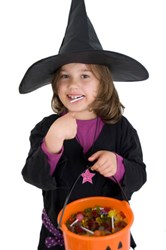 Attacking the Streptococcus mutans bacteria will lead to fewer cavities.
Portland, OR (PRWEB) October 16, 2013
Healthygrid LLC announced the sale of cavity-fighting lollipops in time for Halloween. Dental problems often surface in November so children and adults can protect their teeth and start to fight tooth decay with these healthy treats in October.
These lollipops are the brainchild of Dr. Wenyuan Shi, chairman and professor at the UCLA School of Dentistry's Section of Oral Biology. As a native of China Dr. Shi wondered if his homeland's legacy of herbal remedies might help with dental decay in the United States. Shi targeted a host of mouth infections that cause numerous oral problems as well as incidental ailments throughout the human body. After testing over 1,000 herbs in 50,000 scenarios Dr. Shi determined that Glycyrrhiza uralensis killed oral bacteria, specifically S. mutans. This bacteria is known to cause tooth decay.
Glycyrrhiza uralensis is better known as licorice root and the form that kills bacteria doesn't taste anything like licorice candy. Dr. Shi determined that a sugar-free, orange-flavored lollipop would deliver a tasty experience where people easily absorb the benefits of the herbs. Also, it's a persuasive way to convince children to try it. Since the herbs need about 5 minutes of exposure to kill the bacteria, eating a small lollipop allows plenty of time for them to take effect. Dr. Shi cautions against chewing the lollipops since the herbs really need that time in the mouth to work.
There's an additional benefit: the herb causes less food to stick to teeth and stimulates salivary glands. Both of these features lead to less decay.
The suggested dose is two lollipops per for 10 days. If this is repeated two to four times per year a significant improvement in decay and overall oral health will begin immediately and continue with each 10-day cleansing. Healthygrid scheduled the release of these lollipops since the time around Halloween would offer an opportunity for both children and adults to witness the benefits of these herbs at work.
Sam Dyer of Healthygrid and the Dental Optimizer says these herbs can have a life-long effect. "We're so excited about these 'treats' because they're so easy to give to kids at a crucial age. A four-year-old who who eats these four times a year will have stronger teeth and healthier gums when she is an adult." Adults shouldn't hesitate to try them either, according to Dyer, especially if they get cavities on a regular basis. "Attacking the Streptococcus mutans bacteria will lead to fewer cavities
Dr. Shi notes and Healthygrid agrees that these lollipops enhance regular brushing and flossing so they should be used in conjunction with dentists' recommendations-not as a replacement.
There's more information at http://www.cavityfightinglollipops.com as well as an offer to help new people get started with a substantial discount.