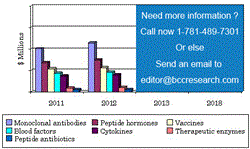 Wellesley, MA (PRWEB) October 16, 2013
According to a new technical market research report, Global Markets and Manufacturing Technologies for Protein Drugs from BCC Research (http://www.bccresearch.com), the global market for protein therapeutics was valued at $138.3 billion in 2012 and is expected to decline to $136.7 billion in 2013. BCC Research expects the market to recover and projects it to grow to $179.1 billion by 2018 and register a five-year compound annual growth rate (CAGR) of 5.6% from 2013 to 2018.
Proteins, an important class of regulatory molecules in the body are an important segment of the healthcare system. Genetic engineering technology has made it possible to produce these protein molecules with modified features. Owing to the high specificity and low immunogenicity, protein therapeutics is widely used to treat various life threatening diseases.
Proteins perform a wide array of functions in the human body such as controlling thinking, regulating all physiological reactions, metabolizing carbohydrates and fats and defending the human body against bacteria and viruses. Proteins also work as enzymes, potent hormones, antibodies, cytokines and signaling peptides that transmit information into cells. Consequently, malfunctioning of particular proteins is the major cause of many diseases. Therapeutic proteins, also known as protein-based therapies or protein therapy, are proteins that are engineered in the laboratory for pharmaceutical use. These are used for the treatment of cancer, infectious diseases, hemophilia, anemia, and hepatitis B and C.
Growth in the protein therapeutics market is being driven by increasing research and development spending, advances in technology, patent expiries, and rising competition. BCC Research expects significant growth in this market for the foreseeable future.
Based on their pharmacological activity, therapeutic proteins are divided into three groups, including protein therapeutics with enzymatic activity or regulatory activity; protein therapeutics with special targeting activity; and protein vaccines. Genetic engineering technology has made it possible to produce protein molecules that allow for highly specific therapeutic treatments for various diseases.
The scope of this study encompasses protein therapeutics in pharmaceutical and biotechnology markets. BCC analyzes each market and its applications, regulatory environment, technology, market projections, and market shares. Technological issues include the latest trends and developments. The emerging market for enzyme inhibitors includes countries like India, China, Japan, Korea, Taiwan, Africa, Australia, New Zealand, etc.
This report from BCC Research explores present and future strategies within the protein therapeutics market, which includes peptide hormones, therapeutic enzymes, cytokines, monoclonal antibodies, blood factors, vaccines, and peptide antibodies. It discusses the improvisations, challenges, and needs of the market as well as classifications, processes and drug usage. This study also discusses the strength and weaknesses of each type of related technology in light of new and emerging technologies, growing competition, and changing customer needs.
Finally, this report provides a detailed analysis of protein therapeutics industry structure, including revenues break downs by region, type, and manufacturing method. Acquisition strategies of major industry players and collaborations by companies are also covered. The report includes sales figures for 2011, 2012, and estimates for 2013 and 2018.
This study contributes to the areas of market growth in protein therapeutics manufacturers and users. Pharmaceutical biotechnical companies, research institutes, and physicians will find this study to be of interest.