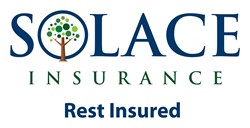 Required CEUs for licensing should be the baseline of an agency's educational standard.
Clearwater, FL (PRWEB) October 15, 2013
A homeowner looking to sell recently shared with Largo-based Solace Insurance that a potential buyer walked away from a contract due to the flood insurance estimate they received from another insurance agent. After reviewing the property and elevation certificate, the experts at Solace Insurance learned that the rate given to the buyer had been grossly overstated.
"The potential buyers lost out on my home and I lost out on the sale because of a flood quote of $15,000, when the rate is actually $1,500 per year. That's a huge difference," the homeowner said.
According to Solace Insurance, arming yourself with some knowledge—and knowing the right questions to ask—can go a long way towards avoiding a similar situation with your own home. Flood insurance rates are property-specific and are based on specific statistics. First and foremost, you should know your statistics. If you are in a Special Flood Hazard Area and have your elevation certificate, and if you are in preferred zones, take advantage of more reasonable rates to protect your investment, at $35.00 a month or less.
The next best thing you can do to be sure you're covered correctly is to choose your insurance company wisely. Ensure you're getting quality coverage and accurate information from your insurance agent by asking these questions:
1.How much training do you do per year?
Some professional insurance agents need 10 hours of continuing education units (CEUs) per year for licensure, while others need up to 24 hours. Solace Insurance puts a priority on continuing education for its agents. The average hours of extra training Solace agents are required to have is 104 hours per year, per person, in addition to their own required CEUs, which include product and industry training. For issues such as current flood insurance changes, agents have been taking classes months ahead of time to stay up-to-date. Bob Childress, founder and CEO of Solace Insurance, says that continuing education is key to staying on top of industry standards and regulations. "Required CEUs for licensing should be the baseline of an agency's educational standard," he stated.
2.How long have you been licensed or selling flood insurance?
All you need to do is ask the agent how many flood policies he or she has in force, and how many they write in a month. If the policies in force are over 100 and they write 2 to 5 per month, then you have an agent who knows a little about flood insurance. The ultimate measure of flood knowledge would be whether the agent possesses an Associate in National Flood Insurance (ANFI) designation. Solace has $1 billion in property insured, with over $175 million in property coverage for flood alone.
3.How many carriers do you represent?
As a customer who values customized solutions and choice, you should be looking for a number over 20. Agencies with more companies have the proper staffing, ability and financial resources to market their product and grow each company. Companies work with agencies they think they'll be successful with; they work with agencies that have a proven track record of success. The more companies an agency has, the more stable and capable an agency is.
Solace Insurance consists of a team of professional agents who cultivate national relationships with carrier companies and have access to designated underwriters, allowing the agency to provide the best possible insurance coverage and pricing available in the market today.
Solace advises Floridians to seek the assistance of professionals when looking to obtain comprehensive insurance policies. The above questions can help one to choose a professional who can help you to secure the correct flood insurance coverage for your home or business.
For more information about Solace Insurance and its services, visit http://www.restinsured.com.
About Solace Insurance:
As an independently-owned, full-service agency based out of Largo, Florida, Solace Insurance has provided quality insurance products to customers for over 30 years. Solace is a licensed insurance agency with over $1 billion in property insured, and has been recognized by many as a top performing agency. This status is what allows Solace to offer its customers the most competitive and economical programs available, all while providing expert advice and quality service. From standard auto policies to the more complex multi-tiered insurance programs, Solace has the depth of resources to find just the right policy for each individual and company. For more information, visit Solace online at http://www.restinsured.com.
1.Harrington, Jeff. "Opponent of flood insurance rate hikes galvanize at community forum." tampabay.com. Tampa Bay Times. 25 September 2013. tampabay.com/news/business/banking/opponents-of-flood-insurance-rate-hikes-galvanize-at-community-forum/2143930
2.Meyer, Theodoric. "Outdated data wrongly places homeowners in flood zones." denverjournal.com. The Denver Journal. 1 October 2013. denverijournal.com/article.php?id=9688
3.Lindenstein, Joshua. "Flood could ruin 1 in 4 small businesses." bcbr.com. Boulder County Business Report. 13 September 2013. bcbr.com/article/20130913/NEWS/130919923