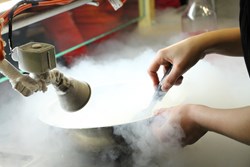 Chanhassen, MN (PRWEB) October 15, 2013
After opening in Eden Prairie earlier this year, Sub Zero Ice Cream & Yogurt has opened another Minnesota store in Chanhassen. Storeowner, Gwen Michael plans to kick off her store with a grand opening event from October 16-19.
Located at 7828 Market Boulevard, Chanhassen, Minnesota, the new Sub Zero store offers a brand new product to the Chanhassen community. Since the ice cream is frozen with liquid nitrogen, buying a frozen treat becomes an experience unlike any other.
"As I raise my family in the Chanhassen community, I become more and more passionate about the people and businesses," Michael said. "When I discovered Sub Zero, I became passionate about the product and I wanted my community to fall in love with the Sub Zero experience as I did."
The Chanhassen location will kick off the grand opening celebration with a ribbon cutting ceremony on Wednesday at 12:30. Ambassadors and city officials from Chanhassen will be in attendance to officially open the Sub Zero location to the community.
Customers in the Chanhassen community will also receive special promotions as part of the grand opening event. On Wednesday and Thursday, customers can get $1 off any medium or large ice cream. Celebrate the weekend with a BOGO offer on Friday and Saturday from 2-4 of equal or lesser value. Finally, on Sunday you can get up to three free mix-ins all day.
"A great thing about Sub Zero is the concept of a one stop location," Michael said. "You can get ice cream, frozen yogurt, fat free cream, and many allergy-friendly treats at the same place. As a mother of an allergy sensitive child, I can make the whole family happy and meet those allergy needs at the same time."
Sub Zero Ice Cream in Chanhassen, MN will bring an ice cream experience to the community unlike any other. Dessert becomes the ultimate outing as families and friends witness the flash freezing magic of customized ice cream.