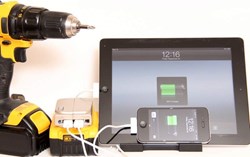 San Diego, CA (PRWEB) October 17, 2013
University of Southern California graduate Lam Pham announced his new Kickstarter campaign today with a goal to raise $60,000 by November, 28 2013 for a new product PowerzALL, a high-performance power adapter that transforms a common power tool battery into a high-capacity, fast and smart portable charger for all Apple, Android phones, tablets or any USB devices.
Powerful storms are the frequent culprit of power outages that derail the lives of millions for days and sometimes weeks on end. Without the proper power supply to maintain the battery life of these communication devices there is no way to communicate with loved ones. PowerzALL is a fast, smart and, portable solution designed to extend the life of your communication devices such as mobile phones, tablets, etc.
Using special technology, PowerzALL automatically detects the type of device being charged and selects the optimized charging mode for that specific device. Other built-in features protect against short circuiting, overheating and battery overdraw. No other charging device delivers this type of performance and rapid-charging time.
Lam Pham is the inventor, designer and, test engineer of PowerzALL. What started as a personal DIY project to seek an improved solution to power his personal communication devices quickly changed after viewing the devastation brought on by Hurricane Sandy. Pham became inspired to complete the prototype design of PowerzALL to help families extend their communication time during these tragic events.
For questions about PowerzALL or to make arrangements to speak with Lam Pham please contact Cynthia Hernandez.
---
PowerzALL
(619)756-0218
support(at)powerzall(dot)com
Cynthia Hernandez
DHS LLC
cynthia(at)dhs-llc(dot)com
About DHS LLC:
DHS LLC is managed and operated by Cynthia Hernandez who provides marketing consultation service to startups and small businesses. More on http://www.LinkedIn.com/in/dhsllc.
About Kickstarter:
Kickstarter.com is a crowdsourcing model website that allows average users to create campaigns for their products and ideas through fundraising.