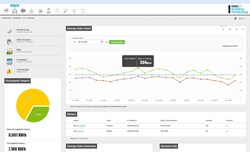 New York, NY (PRWEB) October 16, 2013
More choice for businesses
Aiming to make energy monitoring as simple as possible for all businesses, Intelen recently completed the integration of CCS WattNode® Modbus® meter to its platforms. Intelen's compatibility with even more meters means that businesses already equipped with energy monitoring equipment, as well as businesses in the market for a complete energy management solution, will have a variety of options in finding a platform that really addresses all their energy efficiency monitoring needs without having to make price-based compromises.
Vassilis Nikolopoulos, Intelen's co-founder and CEO, noted: "Being able to integrate and interface to all the major submeters on the market is a priority of Intelen: we are in the business of efficiency and making it easy for businesses to monitor their energy without the hassle of choosing which platform goes with which meter or changing meters to accommodate their choice of platform is the efficient thing to do".
Intelen's own, proprietary, state–of-the-art data logger is also part of this efficiency approach to business: As Nikolopoulos says: "Constantly updated and fine-tuned to work in perfect synch with our platforms, our data logger makes matters even more efficient for the businesses that choose one of Intelen's solutions for their energy management needs: they have to worry about one less thing, the data logger – actually, they need not worry about quite a few things: about choosing a data logger compatible with their meters and energy management platform, about finding one that performs accurately and doesn't miss data, or about having to sacrifice quality because of the cost".
More choice for CCS clients
Intelen's integration will also provide CCS clients with an additional option with regards to the monitoring and energy management platforms they can use with their CSS submeters.
As Ms. Cythia Boyd, Director of Sales at Continental Control Systems, stated: "Monitoring your energy consumption, being able to reliably access it real time from anywhere with Intelen's solution, is the first step to knowing, acting and saving on energy expenditures. We are thrilled that our WattNode Modbus submeter is one of the metering options available for use with the Intelen package. "
Intelen is expected to complete the integration of three more meters by the end of 2013.
Founded in 2011, Intelen Inc is a rapidly growing start-up and an innovator in smart building energy analytics. Based in New York, NY it aims to provide its clients with powerful tools that transform real-time energy data into information that makes sense and drives energy consumption reduction and efficiency.
Intelen Inc. currently offers three powerful integrated platforms that cover every energy consumption management need businesses may have, irrespectively of their size or industry: Intelen Building Monitoring offers real time, accurate energy consumption analytics that provide actionable insights into when and where energy is consumed within a building or its sections. Intelen Building InSights provides businesses with a powerful tool to design, evaluate and stay on top of energy savings retrofits and upgrades. Intelen Building InGage is an innovative platform that uses games, behavioral science and awards to drive energy consumption awareness and reduction among the occupants of a building. Intelen Inc also offers a custom PV monitoring tool and has more energy management applications in the pipeline.
Continental Control Systems, LLC is a privately owned Colorado limited liability company that began operations in 1995 as a product development and manufacturing company. CCS specializes in electric power metering, submetering and monitoring equipment for use by the energy services industry.