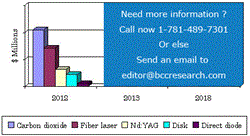 Wellesley, MA (PRWEB) October 17, 2013
According to a new technical market research report, Lasers for Industrial Applications: Global Markets from BCC Research (http://www.bccresearch.com), the global market for industrial lasers was valued at $2.4 billion in 2012 and is expected to reach $2.6 billion in 2013. BCC Research projects the market to grow to $3.4 billion by 2018, and register a five-year compound annual growth rate (CAGR) of 5.8% from 2013 to 2018.
Lasers help businesses perform better by providing labor-saving tools that operate more efficiently and precisely than more traditional methods. Indeed, lasers are replacing more traditional industrial tools at a significant rate. The overwhelming amount of work done by industrial lasers is currently performed by five types of lasers, including carbon dioxide lasers (CO2 lasers), neodymium YAG lasers (Nd:YAG), fiber lasers, disk lasers, and direct diode lasers. While carbon dioxide and neodymium YAG lasers have been used for industrial applications for some years, fiber, disk and diode lasers are just coming into their own, with most of their market opportunity ahead of them.
The impact of emerging laser technologies across a range of markets, including consumer, medical, scientific, communications, and industrial, among others, cannot be overstated. As a new generation of more energy efficient and precise fiber disk and diode lasers start to overtake earlier carbon dioxide and neodymium YAG lasers, BCC Research projects the growth in this market to remain strong for the foreseeable future.
The chief goal of this technical market research report is to ensure that the reader understands the benefits and deficiencies of the range of lasers used in industrial applications, including carbon dioxide, Nd:YAG, fiber, disc, and direct diode, as well as to describe the industrial applications for which these tools are used, such as welding, cutting, sintering, marking, and additive manufacturing among others.
This report from BCC Research provides an overview of the global market for lasers used in industrial applications. It analyzes global market trends, with data from 2012, estimates for 2013, and projections of compound annual growth rates (CAGRs) through 2018. The study also examines a breakdown of application segments, including medical, precision cutting, continuous and spot welding, cladding, drilling, bending, engraving, sintering, soldering, laser scribing, optical pumping, test and measurement, remote sensing, coherent laser radar, interferometry, materials channelization, and photonic doppler velocitemetry.
In addition, a separate evaluation of the surrounding equipment market, including hardware, software, optical fiber cable, and chillers is also provided. Finally, this study presents comprehensive company profiles of major players in the industrial lasers market.
This report is intended for any individual or organization that stands to gain by the growth of this industry. The audience includes the manufacturers of the lasers themselves, those involved in the supporting infrastructure that provides the components for the laser, those integrators that provide the gear that surrounds the laser in a system, customers or would-be customers who want to better understand how industrial lasers can improve their workplace, and analysts interested in investing in growth sectors.