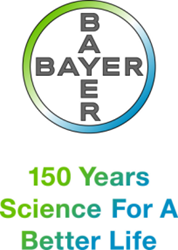 We recognize that chemicals are often only a short-term solution. It's important to educate and train growers about future chemical and nonchemical tools for long-term sustainability of weed control technologies.
RESEARCH TRIANGLE PARK, N.C. (PRWEB) October 15, 2013
International weed-resistance experts warn U.S. crop producers that herbicide-resistant weeds are aggressively taking hold in many parts of the country and pose a significant threat to U.S. crop productivity and profitability. As farmers in other countries have demonstrated, however, these so-called "monster weeds" can be controlled with a combination of conventional and nonconventional farming practices.
Four leading experts shared weed management observations and expertise during the "Weed Resistance in the Americas" panel at the 2013 Farm Progress Show. The event in Decatur, Ill., followed a week-long weed resistance tour of the U.S. and Canada hosted by Bayer CropScience. Panel participants included:

Stephen Powles, director of the Australian Herbicide Resistance Initiative at the University of Western Australia;
Aaron Hager, associate professor of Weed Science, University of Illinois;
Pedro J. Christoffoleti, head of the Department of Crop Science at the University of São Paulo in Brazil; and
Harry Strek, head of Profiling and Market Support in the Weed Control Biology Research group at Bayer CropScience in Frankfurt, Germany.
Moderator Arlene Cotie, product development manager with Bayer, said the panelists wanted to educate and urge growers to "take action" to protect their fields and yields.
"One of the greatest threats to yield loss and food security—on a local and global basis—is the development of herbicide-resistant weeds," Cotie said. "It is a growing global problem that is changing agronomic practices and threatens the long-term viability of economical weed control
and food production."
Global problem hits home
Resistance by weeds to the widely used herbicide glyphosate has grown over the past two decades. Earlier this year, the Stratus Glyphosate Resistance Tracking study found that nearly half of U.S. farmers surveyed in 2012 reported glyphosate-resistant weeds, up from 34 percent the prior year. Hager confirmed that Illinois farmland has experienced the continued evolution of herbicide-resistant weeds, including waterhemp and Palmer amaranth, which rapidly proliferate due to their biological characteristics and the lack of diversity in tactics used for their control.
"In the Midwest, we see new populations every season that demonstrate resistance to numerous herbicide classes," Hager said. "We find resistance is not necessarily limited to one herbicide, but in certain species we find resistance to multiple herbicides, effectively eliminating many of the options farmers would have to try to control these populations in their crops."
The Illinois agronomist and fellow panelists suggested that producers need to think about nonchemical methods to control weeds. "All of the solutions do not come out of a (herbicide spray) nozzle," Powles said.
The panelists cited diverse weed-management tactics including:
In Australia, growers are adopting nonchemical means of managing weeds, such as using a seed destructor that is pulled behind a combine like a chaff cart at harvest time, destroying weed seeds as they exit with the chaff.
Brazilian growers rely on double- and sequential-cropping to help manage weeds, something not possible in most areas of the U.S. due to the shorter growing season. They also use multiple herbicide modes of action.
U.S. agronomists recommend controlling all weeds before planting a new crop, even if this slows the grower's planting schedule. In addition, Hager advocates managing weeds later in the season before they go to seed to prevent replenishment of the soil seedbank.
New thinking required
Bayer CropScience advocates similar practices through Respect the Rotation™, an initiative that elevates the importance of grower adoption of herbicide diversity to reinforce the principles of Integrated Weed Management through rotation of crops, herbicide-tolerant traits and modes of action.
"Herbicide-resistant weeds are an unconventional threat to food production that we must fight with conventional and unconventional methods," said Bayer's Strek. "Accumulated resistance to multiple herbicides complicates the matter."
Bayer offers a number of solutions to weed resistance, including seed traits such as Liberty Link®, allowing growers to spray Liberty® herbicide in-crop for nonselective postemergence control of tough weeds.
Additionally, Bayer is working on additional herbicide systems and seed traits including:
Balance® Bean herbicide is an HPPD inhibitor that will offer a new mode of action for soybeans. As a burndown or pre- or postemergence product, it works on a broad spectrum of grasses and broadleaf weeds, and is intended to work with Balance™ GT soybeans. Balance Bean is expected to launch mid-decade, pending regulatory approvals.
Balance GT is a double-herbicide-tolerant trait stack for soybeans developed in collaboration with MS Technologies. It features a new form of glyphosate tolerance for soybeans, coupled with tolerance to Balance Bean herbicide. Balance GT received cultivation approval from the U.S. Department of Agriculture in August 2013, making it one of the first dual-herbicide tolerant products for soybeans in the U.S. market. The first U.S. launch is planned for 2014 pending regulatory approvals.
Bayer CropScience and Syngenta together have submitted applications for the approval of a new herbicide-tolerance soybean trait stack in various countries. The new trait stack confers tolerance to three herbicide active ingredients: mesotrione, glufosinate-ammonium and isoxaflutole (MGI). This trait will offer an important tool for soybean growers faced with challenging weeds and will broaden the herbicide options by offering tolerance to Balance Bean and Callisto® herbicides, the leading HPPD inhibitor products. The trait is under review by regulatory authorities in the U.S. and Canada and key soybean-importing countries, including the European Union. The launch is expected between 2015 and 2020.
"These are new solutions that most of the weeds haven't seen before," Strek said. "But we don't want these solutions to burn out and become ineffective."
"Bayer wants to be a global leader not only in chemical solutions, but also in stewardship and education," he said. "We recognize that chemicals are often only a short-term solution. It's important to educate and train growers about future chemical and nonchemical tools for long-term sustainability of weed control technologies."
Visit here to learn more about Bayer's Integrated Weed Management solutions. For additional information and background on other sustainability initiatives please visit http://www.bayercropscience.us/our-commitment/bayer-initiatives. You can also follow and share with us on Twitter @Bayer4CropsUS or connect on the Bayer CropScience social media hub, Bayer Connect.
Bayer CropScience is committed to bringing new technology and solutions for agriculture and non-agricultural uses. For questions concerning the availability and use of products, contact a local Bayer CropScience representative, or visit Bayer CropScience online at bayercropscience.us.
###
About Bayer CropScience
Bayer is a global enterprise with core competencies in the fields of health care,
agriculture and high-tech materials. This year the company looks back on 150 years of working to fulfill its mission "Bayer: Science For A Better Life". Bayer CropScience, the subgroup of Bayer AG responsible for the agricultural business, has annual sales of EUR 8,383 million (2012) and is one of the world's leading innovative crop science companies in the areas of seeds, crop protection and non-agricultural pest control. The company offers an outstanding range of products including high value seeds, innovative crop protection solutions based on chemical and biological modes of action as well as an extensive service backup for modern, sustainable agriculture. In the area of non-agricultural applications, Bayer CropScience has a broad portfolio of products and services to control pests from home and garden to forestry applications. The company has a global workforce of 20,800 and is represented in more than 120 countries. This and further news is available at: press.bayercropscience.com.
Contact:
Bayer CropScience Media Hotline, 1-877-879-6162, or
Becca Hogan
Director of Communications & Bayer CropScience NA Coordinator
Bayer CropScience
Tel: (919) 549-2030
Email: mailto:becca(dot)hogan(at)bayer(dot)com
Jenell Loschke
Charleston|Orwig
Tel: (262) 957-6031
Email: jloschke(at)charlestonorwig(dot)com
USA-BCS-2013-0271
Find more information at http://www.bayercropscience.us.
Forward-Looking Statements
This release may contain forward-looking statements based on current assumptions and forecasts made by Bayer Group or subgroup management. Various known and unknown risks, uncertainties and other factors could lead to material differences between the actual future results, financial situation, development or performance of the company and the estimates given here. These factors include those discussed in Bayer's public reports which are available on the Bayer website at http://www.bayer.com. The company assumes no liability whatsoever to update these forward-looking statements or to conform them to future events or developments.