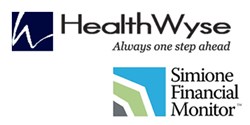 The Simione Financial Monitor is a perfect complement to our dashboards and analytics.
Wilmington, MA (PRWEB) October 15, 2013
Today, HealthWyse and Simione Healthcare Consultants announced an integration between HealthWyse's comprehensive electronic medical record suite and the Simione Financial Monitor.
The seamless interface allows for the sharing of data captured in the HealthWyse EMR with the Simione Financial Monitor benchmarking tool. With a few simple clicks, data is exported into the Simione Financial Monitor tool, which produces a battery of comparative financial and operational reports and graphs.
The Simione Financial Monitor provides a unique vehicle for comparison of local agency data versus national benchmarks, allowing agency executives to better understand reimbursement patterns, profitability and gross and net margins.
The integration complements HealthWyse's integrated analytics platform, which includes real-time, role-based dashboards and on-demand and ad hoc reporting tools. The HealthWyse dashboards provide dynamic financial, clinical and operational data such as DSO, re-hospitalization rates and productivity measures.
"In today's volatile environment, agencies must have access to timely data to support metrics-based decision-making," said HealthWyse CEO Rob Pahlavan. "The Simione Financial Monitor data is a perfect complement to our dashboards and analytics."
Both the HealthWyse and the Simione Financial Monitor dashboards offer a user friendly interface that presents key performance indicators in graphical form, with drill-down analyses available.
"This integration between Simione Financial Monitor and Health Wyse offers a robust reporting solution. The insights to be gained from this data are crucial to maintaining fiscal health. Agencies must be able to drill down into their data while comparing to industry benchmarks," stated Robert Simione, Managing Principal, Simione Healthcare Consultants.