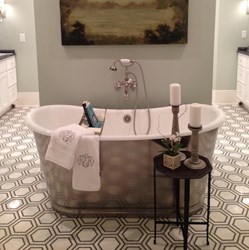 We are excited to announce this tile giveaway. One of our lucky readers, will receive a free makeover.
Nashville, Tennessee (PRWEB) October 15, 2013
Mission Stone & Tile, national online tile retailer, Holds $1200 Tile Giveaway Contest
Enter by visiting the Mission Stone Tile Blog and voting for one of your favorite of 5 delicious mosaics, and let them know where you'd install it.
Mission Stone & Tile has announced a Tile Giveaway Contest for 40sf of mosaic tile that is running now through October 25th, 2013. To be eligible to win, interested parties must visit the Mission Stone & Tile website and enter online. No purchase is necessary, and daily entry is allowed. You may enter by sharing on various social media and earn increasing points for more chances to win. A winner will be selected in a random drawing at the close of business on October 25th. The winner does not need to be present at the time of the drawing and will be notified by phone and/or email of the win.
The prize is a $1200 (retail value) tile package. The winner may select one of the 5 mosaics available. There are two Hex Appeal- Hexagon Mosaics, an Imperial Trellis, Curve Appeal, and KaleidoStone Mosaic to choose from. The value of the prize does not include installation, and the winner may use the tile for a backsplash or another application.
According to Mission Stone Tile President, Mary Elizabeth Oropeza, the goal of the contest is to increase awareness of a beautiful new selection of mosaics offered only by Mission Stone Tile.
Mission Stone & Tile is open weekdays from 8:30 am to 4:30 pm for those who wish to register, and 24 hours a day online at store.missionstonetile.com.
About Mission Stone Tile
Mission Stone & Tile is a premiere importer and distributor of natural stone, ceramic, and porcelain tile collections, founded by tile industry veteran and interior designer Mary Elizabeth (Hulsey) Oropeza. Mission Stone & Tile is the culmination of 20 years expertise in stone and tile, grounded in a commitment to meet the needs of designer, architectural, builder and contractor clients.
Mission Stone & Tile showrooms are true design resource centers - light, open spaces filled with samples to inspire custom designs.
Locations are open weekdays between 8:30 and 4:30. Mission Stone & Tile's online store is accessible anytime at store.missionstonetile.com.
Mission Stone Tile- Headquarters
2930 Sidco Drive
Nashville, TN 37204
T: [615] 244-6448
F: [615] 244-6508
E: info(at)missionstonetile(dot)com
Mission Stone Tile- A Tile Showroom in Chattanooga, TN
55 East Main Street Ste 102
Chattanooga, TN 37408
T: 1-877-529-8453
E: chatt(at)missionstonetile(dot)com